As noted in that mini update post, Threehundredbeers now enjoys the luxury of residing in what claims to be both England's oldest and newest city, all at the same time.
Which isn't necessarily as exciting as it sounds. Still, this little provincial town does have its moments. One of the nicest of those moments is a wonderful pub named The Odd One Out, which is basically my local. As far as I know it dates from the 1930s and is largely unchanged since then. The pub is full of character and characters (yes you, Annie), is dog-friendly—even if the dogs aren't always unconditionally friendly unless you have snack-based bribes to hand—and is effectively the brewery tap for the magnificent Colchester Brewery.
Which brings us to the matter at hand.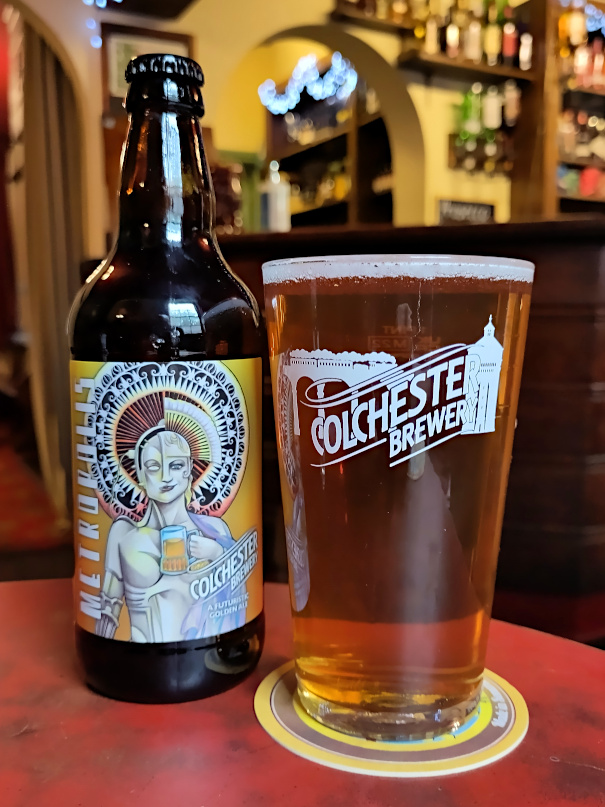 Colchester Metropolis is a beautiful Golden Ale. It isn't in The Book, but it's my site, my rules, so I'm using it as a substitution for a discontinued beer.
Metropolis is always my first beer of the night in this pub, before I start to work through the guest ales and the impressive cider selection. At 3.9% it's sessionable, utterly drinkable, yet full of flavour courtesy of the Cascade and Brewer's Gold hops.
There's a sturdy malt base, which isn't always the case for certain other Golden Ales, providing a rich, almost honeyed body to the beer. It will always be in prime condition here, since the head brewer's missus drinks it, and that's the kind of quality control that you don't argue with.
As always, Metropolis is served in the correct glassware here, and with that moreish bitter finish, there's no doubt I'm buying myself a bottle to take home for the fridge.
Great stuff.
Facts and Figures