It's long overdue that I should make my first visit to the Holborn Whippet, a craft-focused beer and food pub in Sicilian Avenue.
I've been a big fan of the Whippet's sister pub, the Pelt Trader on Dowgate Hill, since it opened while I worked in the City, and who I know happen to keep this beer on tap continuously.
However, the Pelt Trader is closed on Saturdays and Threehundredbeers is thirsty, so to the Holborn Whippet it is, for a pint of this slightly rare, yet reasonably-priced Black Lager from somewhere deep in the German countryside.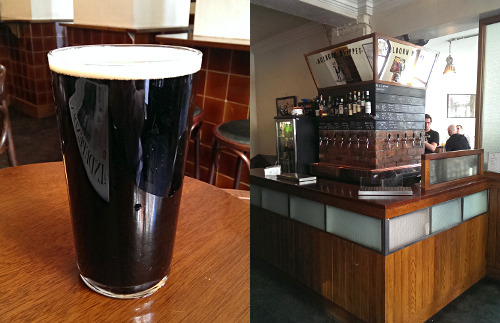 Poured from a tap embedded in a brick wall behind the bar, Köstritzer Schwarzbier looks more like a stout than a lager, being such a deep red colour that it appears black until you hold it up to the sunlight, with a thick tan head.
And yet a lager it is, being cold-fermented, while it gets its colour from being made with roasted malts, just as a stout is.
The first taste is smooth, sweet and malty, with very little in the way of hop bitterness. The beer is full of big date and dried fruit flavours, with a noticeable burst of what I can only describe as lageriness at the end.
Finally there's a slightly roasty, bitter finish courtesy of those dark malts. The result is broadly similar to a Vienna lager, such as Brooklyn Lager, but with all the flavours turned up a bit.
There's a lot going on which, when combined with the unfamiliarity of the style, makes for a slightly odd beer experience. It's very drinkable, but perhaps a little too rich for me to want to drink more than a pint or two.
I can't see this one becoming a regular favourite of mine, but I'm glad I've had the chance to try it, and so big thanks to the Holborn Whippet for stocking a beer that very few other bars do.
Facts and Figures