Threehundredbeers is still up here in The North, but after a brief stay in Bamford, Derbyshire, we've moved on to Leeds. These days, Leeds is a great beer city crammed with excellent specialist venues such as North Bar, Friends of Ham and the venerable Whitelock's Ale House, all of which Threehundredbeers visited.
If you are in Leeds though, it's well worth a gentle stroll out of the city centre and down to Northern Monk Brewery and their spiffy Refectory, where you'll find countless taps full of rare and powerful beers from Northern Monk and from many other breweries besides.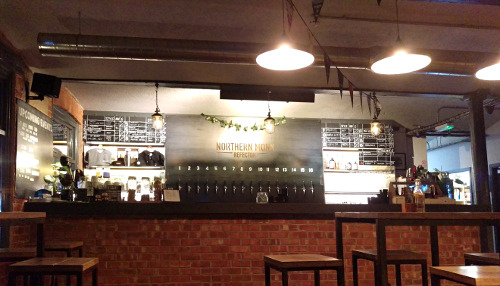 Including this one. This is a slight substitution for the actual beer listed in The Book: Gale's Brewery was based in Horndean, Hampshire from 1847 until 2006, shortly after it was purchased by London's Fuller's. The Prize Old Ale was a limited-numbers, bottle-conditioned Old Ale weighing in at 9% ABV, which was sadly discontinued by Fuller's in 2011, making it nigh impossible to come by these days.
In a pleasing turn of events, Manchester's well-regarded Marble Brewery, in a collaboration with Fuller's director of brewing John Keeling, revived the recipe in 2017 and created four slightly different barrel-aged versions, including Pinot Noir, Madeira and Barbera wine barrels, and this one: the bourbon barrel-aged version.
All four varieties were available in bottles, but this is the first and only time I've ever seen one on tap. I don't think there's any doubt that we're about to order a half.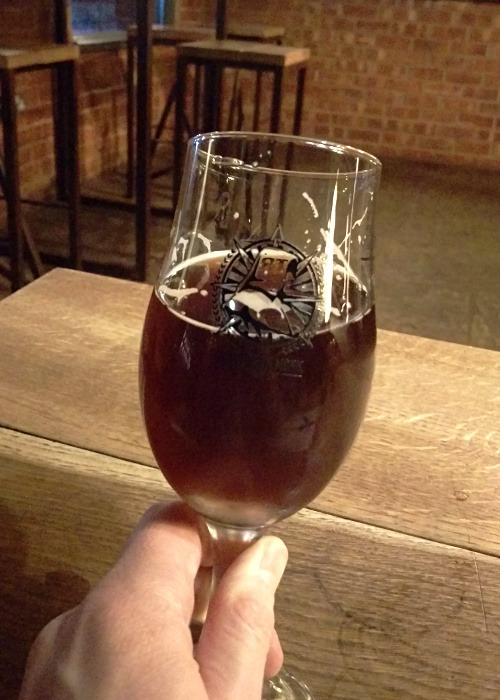 Marble's brew pours brown and cloudy, and it's immediately evident from the aroma that the barrel-aging has done its work: the nose is all bourbon, front and centre. It's a shade too cold straight from a keg, but at 10.6% ABV this is one to drink slowly anyway, which should give it a chance to warm gently as we sip away at it.
I'd never tried the original Prize Old Ale, so it was hard to know what to expect. An obvious point of reference is Fuller's own Vintage Ale, though this is a little different, being lighter in body and less rich. It's vinous and full of toffee, raisins and lingering peppery spice. There is a sweetness to it, and a stickiness on the lips.
Given the ABV and the boozy spirit notes, this is a deeply warming beer, well-suited to a winter evening in Leeds. Yet it's hugely drinkable for the strength and style. I do wonder if the bourbon perhaps overpowers the subtleties of the base beer, rendering it a little more one-dimensional that it deserves to be, but without a "straight" version to compare it to, it's impossible to say.
What is undeniable is that Marble have brewed a cracking beer here, regardless of how it compares to the original. I'm extremely pleased to have had the chance to try it, particularly in the pleasant surroundings of the Northern Monk brewery.
Facts and Figures