As I mentioned when we met Burton Bridge Empire Pale Ale recently, there might be a little more travel involved in tracking down some of the next few beers. And so it happens that this month's Official Threehundredbeers Day Out takes us to the south coast for a slightly beery tour of Brighton.
We're on the hunt for Ballards Wassail, a beer I've never even seen in my life. Fortunately the wonders of social media alerted me to the fact that the well-regarded new restaurant Coggings & Co carry an impressive list of local beers, including this one. Apparently they do a fine burger too, so this shouldn't be too much of a hardship.
In fact, I think this will be the first beer here to be found in an actual restaurant. Clearly, we're going up in the world.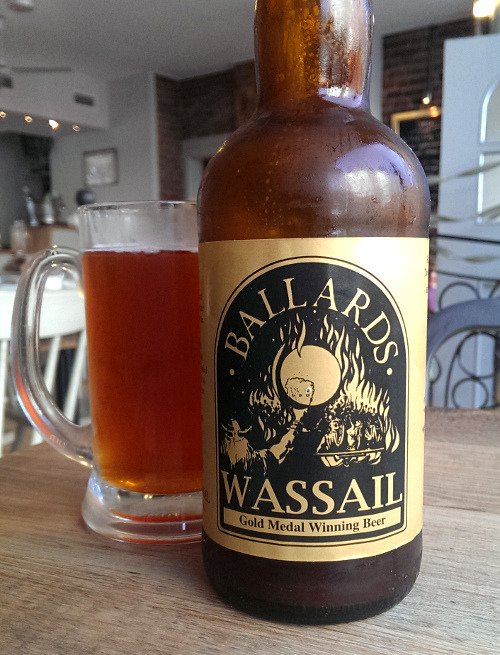 It turns out Brighton is quite the beer city these days. Apart from Coggings & Co, I managed to visit the Craft Beer Co, Brighton Beer Dispensary and the terrific Evening Star (twice) all in one day.
Anyway, to the matter at hand. Ballards Wassail is a deep, honeyed golden colour with very little in the way of froth. It was originally brewed as a christmas special, and it shows: this is a rich, warming beer full of festive fruit and spice flavours along with, at 6% ABV, a prominent but not unpleasant booziness to it.
In terms of style, I'd say this is about halfway between an Old Ale and a Barleywine, with the caramel sweetness of the latter very much present, but without the double figures alcohol payload. There's a big, bready maltiness and even some herbal notes that remind me a little of the Fraoch Heather Ale.
This may not be a typical beer to choose in the height of summer to accompany a sturdy lunch, but we don't stand on convention here at Threehundredbeers. I enjoyed it enough that I had a second while I was digesting.
A very nice beer then, combined with a cracking feed including some of the best chips I've ever had, and a warm welcome from the lovely staff. I was a very happy camper indeed. I look forward to trying more beers from this brewery, and I can certainly recommend Coggings & Co if you're in the area.
Facts and Figures