BrewDog are one of those companies that can greatly divide opinion within the beer world, to say the least.
Their histrionic, Kevin-the-Teenager marketing schtick may not be to everyone's tastes, but they do brew some fine beers. And now, via their bars and wonderful new shop, BottleDog in King's Cross, [Edit: sadly now closed] they're importing and making available some exceptional and rare beers from far-flung corners of the world. Which brings us neatly to this guy.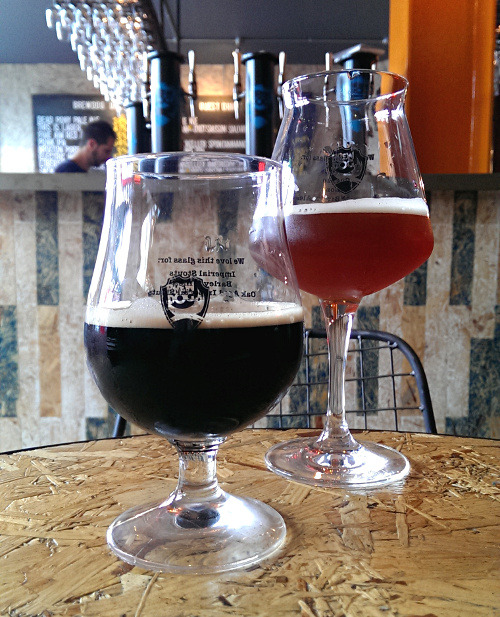 North Coast Brewing Old Rasputin is a fairly intimidating 9% ABV Imperial Stout, and hails from Fort Bragg, California. You'll very occasionally find it in bottles, but will almost certainly never have seen it on tap in the UK. Unless, that is, you made it along to the newest BrewDog bar in Clapham Junction within the first few days after it opened.
Which, needless to say, Threehundredbeers did.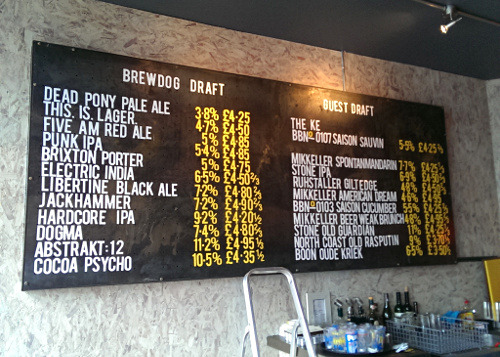 It's a stout alright, and a mighty one at that. Old Rasputin is utterly black, coating the inside of BrewDog's well-chosen glassware thickly with its tan froth and boozy alcohol "legs" as you swirl it around.
Speaking of which, the 1/3 pint measures are a nice touch, since this is quite a strong beer, and there are many other strong beers to be sampled here too. For the curious, that other third in the background is the Stone Brewing Old Guardian, a gigantic Barleywine that's similarly rare to find on tap, if at all.
The aroma is surprisingly fruity, though fruit as in dates, figs, that sort of thing. The body perhaps isn't the fullest I've ever come across in an Imperial Stout, though it's still pretty robust.
First impressions are dominated by a huge bitterness, so much so that in my scribbled notes I wrote the word "bitter" three times, just in case I somehow forgot. There's a big, warming alcohol hit up front too.
All the requisite Imperial Stout boxes are ticked: there are licorice, dark chocolate, leather and coffee flavours in spades. That bitterness won't lie down though, not that you'd want it to.
This is a great beer, and it's a real treat to find it on tap. I'd have had another, but that Old Guardian won't drink itself. Either way, a browse through the BrewDog beer menu suggests this won't be our last visit. Any excuse to return to a very pleasant bar that's a wonderful addition to the South London beer circuit.
Facts and Figures