A trip to the West Dulwich mail sorting office to collect a package is always a good excuse to stop by The Alleyn's Head, a pleasant enough local pub with a traditional but regularly changing guest cask lineup.
Since the sorting office is only open in the morning, we've reached the pub at a scandalously early hour, so perhaps something on the sessionable side is called for. Fortunately, there on the pumps is another of the many English Bitters we need. At an improbably reasonable £2.95 a pint (£2.49 all day Mondays) it won't break the bank either.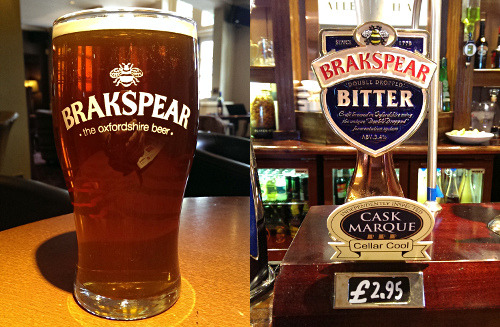 Brakspear Bitter hails from somewhere in Oxfordshire, and comes to us courtesy of the same folks who brew that rather nice Brakspear Triple we enjoyed back in this blog's infancy (last year).
It's a fairly standard colour for a Bitter, in other words brown, if a little darker than some examples of the style. There's a smallish cream coloured head that clings to the glass in an appealing fashion.
Well, it's certainly bitter. There's an unmissable citrus tang all the way from front to back. There are some juicy underlying malts and a tiny hint of butterscotch sweetness, but it's that sharp bitterness that gets the attention.
In fact it's hard to taste much else unless you concentrate quite hard. It's not unpleasant though, and in fact is quite moreish. There's no doubt that the Brakspear Bitter is in impeccable nick today, so I had a second pint. At that reasonable a price, it would seem rude not to.
Facts and Figures