It's becoming apparent that if I'm to make a great deal more progress through the lengthy todo list, I'm going to have to spend a little more time looking beyond the perimeter of London.
Burton Bridge Empire Pale Ale is a case in point: it's brewed in the heartland of British brewing, Burton-on-Trent, but the vast majority of it is exported to the States. One of the few places you will find it in this country is at the brewery tap, the Burton Bridge Inn.
As it happens, a day trip to St. George's Park with The Official Threehundredbeers Sister meant that a visit to the Bridge Inn on the way home was eminently achievable, nay inevitable.
And why not. It's a very pleasant, traditional two roomed pub of the sort that you'd barely leave if you lived nearby. There can't be many places where one could get a stronger sense of being back where it all began, beer wise.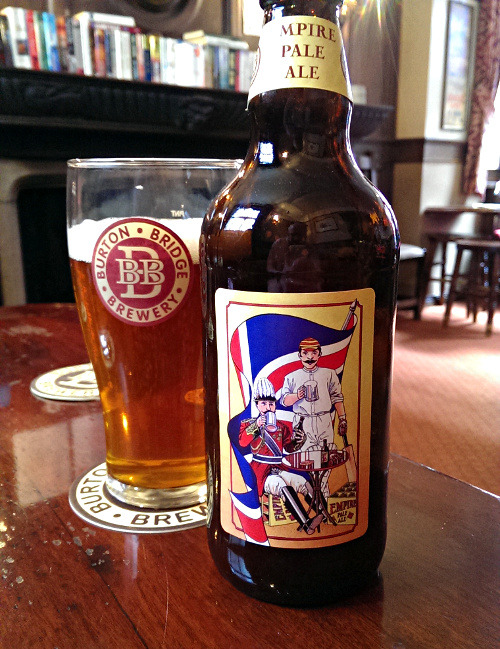 Burton Bridge Empire Pale Ale is only available in bottle-conditioned form, and I'm immediately impressed that at the Bridge Inn, the bottles are kept in the cellar to be served at the perfect temperature. Fortunately the barman is a youthful chap, and more than happy to descend the stairs to fetch us one.
It's lovely looking stuff, a honeyed copper colour with a thick tan head that lasts. The aroma is of huge bitter hops—it's an IPA, that's for sure—and an unexpected but unmistakable waft of sour notes that can only come from Brettanomyces yeast, of the sort that turns Orval slowly yet deliciously sour as it ages in the bottle.
We'd better get stuck in. Blimey, it's strong and drinks every inch of its hefty 7.5% ABV payload. It immediately gets to work, flushing your face with warmth, and making you think you should probably take it slowly rather than get giddy and embarrass The Official Threehundredbeers Sister.
Once you get past the initial boozy hit, it's lovely, mouthwatering stuff. The hop bitterness is huge and uncompromising, and the beer is all the better for it. It's complemented by peppery spice and sultana fruit from the malts.
This is an IPA very much in the traditional English style, and I suspect this is as close as you can get to the proper old IPAs that were brewed in Burton 150 or so years ago, and exported to the Empire. Hence the name, I suppose.
That said, the sour Brett notes are intriguing, and not typical of IPAs that I've experienced. Thinking about it though, the chances of a beer brewed back then, and then transported in wooden barrels in the hull of a ship for several months not becoming inoculated with a wild yeast strain seem fairly remote.
Either way, it works. The combination of bitter and sour mean you're more than likely to be sending the barman downstairs for another, as I did, and perhaps even taking one or two more home with you.
This is very much to my tastes, and it's a beer I'd drink quite regularly in London if only it were easier to find. I'd also be fascinated to know how it responds to the long journey over to the States. For the time being, though, it looks like I'll have to find another excuse for a trip back to the Bridge Inn.
Facts and Figures