You simply have to love The Grape & Grain. I've said it before, but the contribution the pub has made to this blog, not to mention the South London beer scene, has been absolutely priceless.
This is no less than the tenth beer that the Grape & Grain have been able to furnish us with. Look, I've even given the relevant posts their own super special Grape and Grain tag now.
Shall we swing by once again on the off chance there may be something of interest among their 12 hand pumps? I don't think there's any doubt that we shall.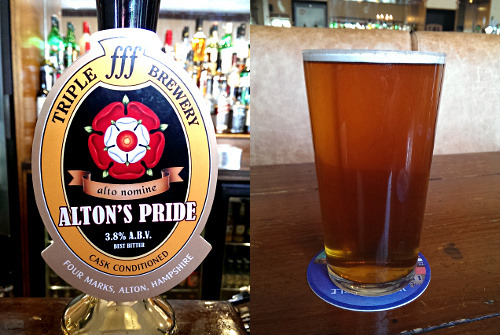 I know very little about Triple fff, other than they're a fairly small brewery tucked away somewhere remote in rural Hampshire. Alton's Pride is yet another past winner of CAMRA's coveted Champion Beer of Britain award, along with such beers as Mordue Workie Ticket and the wonderful Kelham Island Pale Rider. Perhaps I should create a tag for past winners too, as there are more to come.
Alton's Pride is another fairly typical English bitter. I've been known to accuse examples of the style of being a bit boring and even crushingly unexciting, but this one is in a different league entirely.
It pours a very appealing deep bronze colour with a big, foamy tan head that fades quite quickly. Unlike some bitters, this one actually tastes of something.
Indeed, it's big and fruity, with both citrus and dried fruits up front and vying for your attention. There's a dense underlying Lyle's Golden Syrup sort of sweetness from the Maris Otter and Cara Gold malts, and an immense, long bitter finish from the First Gold and Northdown hops. And when I say long, I mean I drank this beer several days ago and can still taste it. In a good way.
What a lovely pint. If I was looking to find fault, I might mention that the body is perhaps a little on the thin side, but for a beer weighing in at a modest 3.8% ABV, that isn't really anything out of the ordinary.
What you get in return is a beer that's hopelessly easy drinking, and an excellent session bitter that isn't actually boring at all. Good stuff, and I'll be keeping an eye open for more beers from this brewery.
Facts and Figures