Our time in Scotland is drawing to a close, and after a night in Aberdeen, there's just time to break up the long trek home with a final night in Edinburgh.
This time we'll go for something altogether more local: Caledonian Deuchars IPA is brewed just down the road to Slateford, in the shadow of Heart of Midlothian's Tynecastle Stadium.
Caledonian Deuchars IPA is a beer I remember well from my years as a student in Edinburgh. I'm convinced it used to be stronger though: these days it's an eminently sessionable 3.8%.
And where better to try it than The Oxford Bar, famed as "The Ox" of Ian Rankin's Rebus novels. Inspector Rebus is a regular here, often holding clandestine meetings in the back room, and this is his tipple of choice. When he's not on the whisky, that is. That's because Ian Rankin is also a regular here, and has been known to try the Deuchars IPA once or twice himself.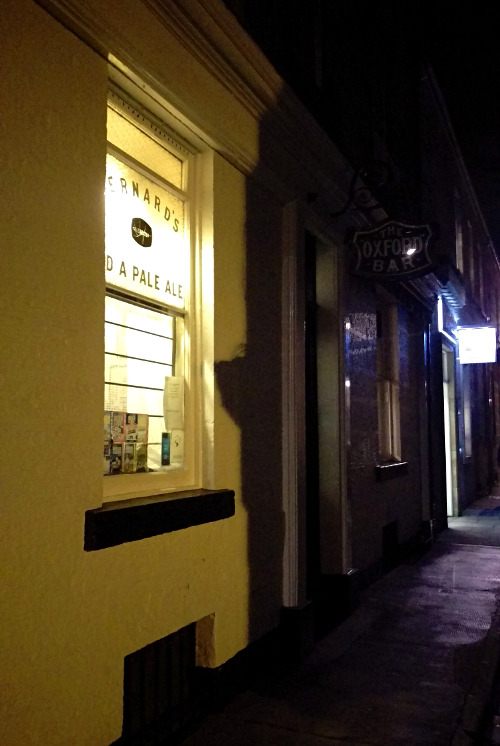 Of course the Deuchars IPA is in good condition here, and served in the correct glassware, always a nice touch.
Some may dispute the labelling of this as an IPA, given its modest strength and subtle hopping, but by traditional Scottish standards it is a hoppy beer. It's zesty and refreshing, with lemony fruit perfectly balanced out by juicy malts bearing a hint of caramel sweetness.
That's all sat on top of a slight Burton-like saltiness from the hard local water that helped to make Edinburgh a renowned centre of brewing for many, many years.
It's a great little pint, this one, and the sort of thing you could drink all night if push came to shove.
Facts and Figures