I've been scandalously neglecting the Threehundredbeers project recently, but I'm still here. That this beer was consumed back in March will tell you how far behind we are, and so the time has come to get things back on track.
This particular beer was consumed at the London Palladium, more specifically at one of the finest gigs I'm ever likely to attend. This was the night Glen Hansard nearly took the roof off the place with a three hour set (setlist here) including six encores, a guest appearance from Dublin poet Stephen James Smith, and even some death-defying balcony-dangling from Glen himself.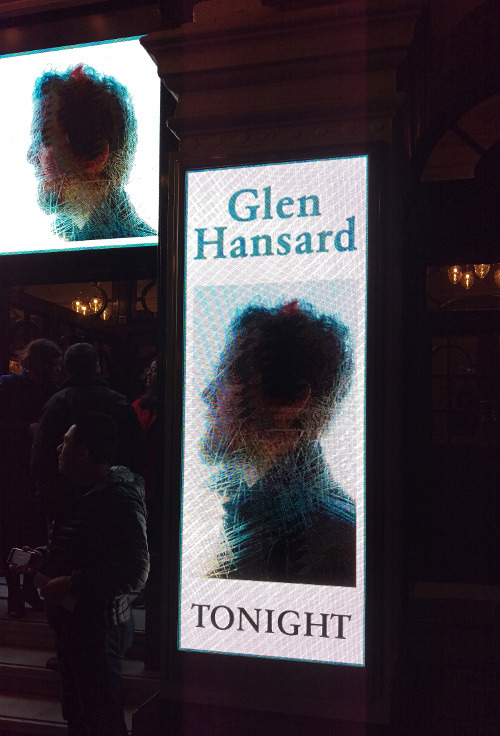 The choice of beers at the Palladium is, to put it politely, limited. So unless you fancy a Stella Artois (I didn't) it's a Hobgoblin for you tonight. Fortunately, that's one we've yet to tick off The List, and doubly fortunately, it's the stronger, 5.2% bottled version and not the watered-down cask offering.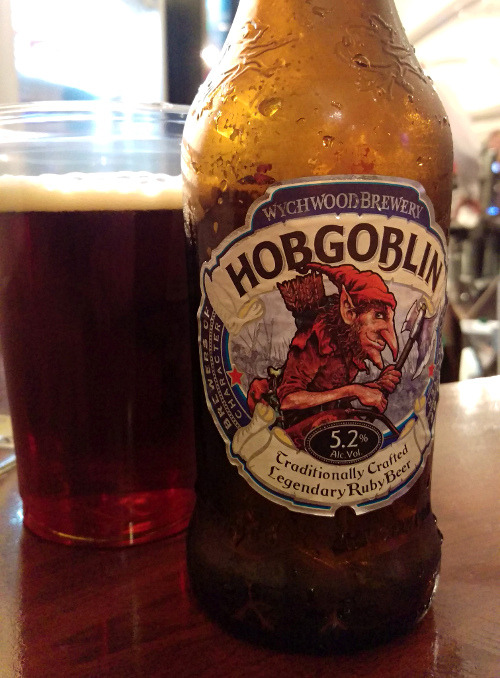 Furthermore, the good people at the Palladium are more than happy to let you take it to your seat while Glen makes whiskery love to your earholes with his big ginger acoustic face.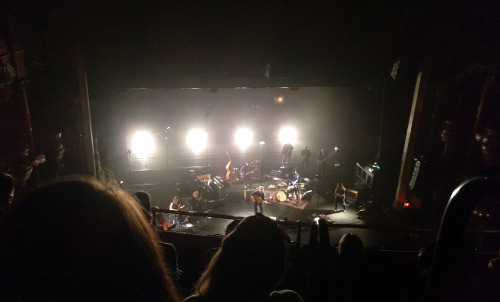 The beer itself is a bit of an English classic. It isn't as strong as it used to be, even the bottled stuff, but it's still welcome enough tonight. It's a beautiful deep ruby colour with a small yet firm tan head, even in an idiotproof plastic pint pot. It still packs a punch at 5.2%, but that strength is well backed up by big, fat fruits and juicy malts. There's almost a wine-like finish and it all goes down very easily indeed, especially if you're on some sort of musical cloud nine as I clearly was by this point in proceedings.
I'll leave you with some shakily-filmed moments from the gig. Here's Glen taking an old Frames song up a notch. The video doesn't quite capture the walls of the Palladium visibly shaking in response to Glen's bassist's thumping great bass line:
Here's Her Mercy from the 2015 album Didn't He Ramble:
This is the sort of thing you don't want to see when your vertigo is already playing up from being way up in the cheap seats for the last couple of hours:
And finally an unexpected highlight of the night. This is Stephen James Smith performing perhaps his best known poem, Dublin You Are, which had about 2,500 people on the edge of their seats, hanging on his words in quiet awe:
It's impossible to put into words how good this show was: the cameraderie and warmth and love in the room, the audience participation and the sheer spectacle of the last night of the tour. All in all, a pretty magical evening, and Hobgoblin did a fine job of accompanying it, even if I did later have to run to The Lyric for an emotion-calming pint of Magic Rock Cannonball just in time for last orders.
Facts and Figures