Time for a little geographical diversity, as we come to sample the first of the 300 Beers to originate in Mexico, an interesting cerveza named Negra Modelo.
Hailing as it does from the land that brought us such beers as Sol and Corona, both chronically lacking in flavour and excitement, and being brewed by Grupo Modelo, the giant brewery responsible for the aforementioned Corona, we may fear the worst.
Of course, I've had such fears before and they've turned out to be misplaced. Let's see if Negra Modelo deserves its place in The Book.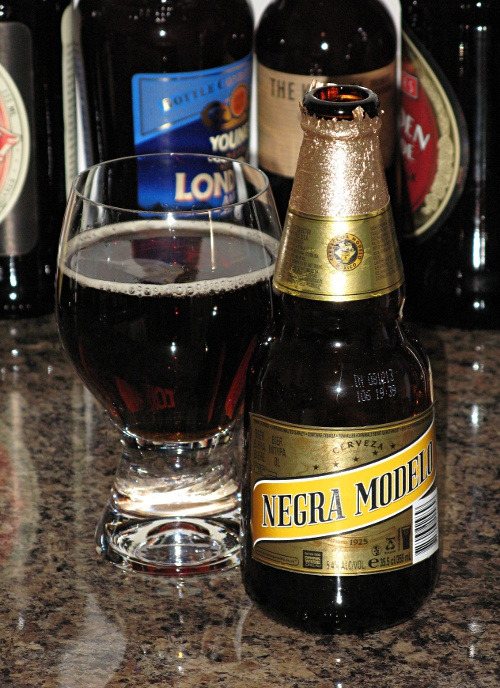 Well, as with the Brooklyn Lager, once again my preconceptions look to be on rocky ground. For a start, Negra Modelo is much darker than I expected, and in fact it pours a deep brownish ruby colour, with a small off-white lacing. It looks like we have another Vienna-style lager on our hands.
There's a lightish, fruity nose and a nutty yet rounded, berry-like fruit to the flavour too. In fact the fruit reminds me a little of one or two of the Belgian Dubbel-style Trappist beers we've seen, such as Westmalle Dubbel, and I really did not expect to be saying that about a Mexican beer!
That said, at a sensible 5.4% ABV, Negra Modelo also tastes a little watered-down compared to those beers, and the body is a fair bit lighter than the colour might suggest. Helpfully, though, there's a subtle bitter finish to give the beer some length and keep things satisfying.
Negra Modelo is certainly an interesting beer, though I can't help finding it a little schizophrenic: it's slightly too dark and full-bodied to be the truly refreshing quencher that you'd want to accompany your hot tamales on a scorching Tijuana afternoon, while on the other hand it doesn't have the strength and depth to really be savoured like one would the Trappist beers I mentioned.
Still, Negra Modelo is a good beer all the same, and this has certainly been another revelation and indeed an education.
Facts and Figures