This is the first of the two Anchor beers that I've got hold of so far, and I've been intrigued by these handsome little bottles, both wearing their San Francisco provenance with pride, with their sailor tattoo label artwork.
As a "Steam Beer", this particular brew is in a category of exactly one beer in The Book. I've actually no idea what a Steam Beer is, and there seem to be several theories as to how the term came about. None of them seem particularly convincing or well corroborated, so I'll leave the origins of the name as an exercise for the reader.
I'm vaguely expecting this to be a pretty ordinary lager, but I've had that preconception about American beer before and been pleasantly surprised, so this could be interesting.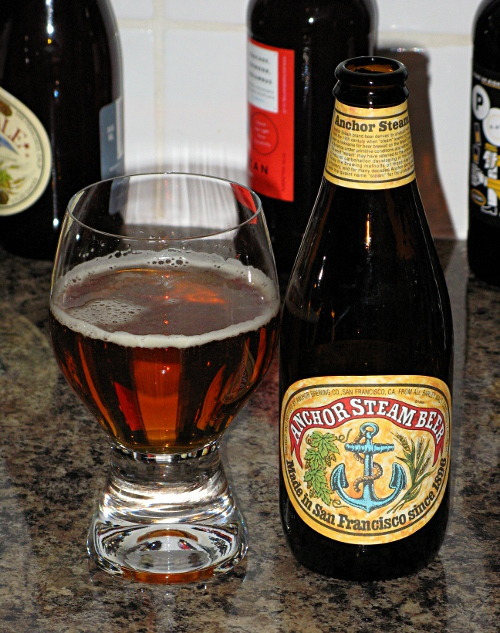 Just like with the Brooklyn Lager, Anchor Steam Beer pours a lot darker than expected. In fact it's kind of a butterscotch, caramel colour.
And goodness me, but this also tastes nothing like a lager. It's a really flavoursome, big kind of beer. There's a robust malty body, a hint of butterscotch sweetness, and a huge long bitter finish, aided by a light effervescence that helps drive the flavours home.
There's something very old-fashioned about the beer, to the extent that when you learn that the style dates from the 1890s, when it was brewed for thirsty Gold Rush prospectors, you can believe it.
For all of that flavour, this is a very refreshing, gluggable beer which as The Book says, successfully combines "the richness and fruitiness of an ale with the quenching character of a lager". I couldn't have said it better myself.
Anchor Steam Beer is very good indeed, and has been another revelation.
Facts and Figures