Since we're in the West End, let's pop into Lowlander, a super little specialist beer café on Drury Lane.
Threehundredbeers is a big fan of Lowlander: with friendly, efficient table service, a very impressive range of—typically, but not exclusively Belgian—beers, and a sophisticated yet relaxed atmosphere, it's as close to being back in Brussels as one can get in London.
Of course, you'll pay exactly twice as much for a given beer as you'd pay in, say, Poechenellekelder, but hey, this is London, and if you can find this range of beers cheaper elsewhere, well done you.
And this beer certainly is something a little out of the ordinary. Indeed, Rodenbach Grand Cru is in a chapter all of its own in The Book: it's categorised as a Belgian Sour Red Beer, which describes it rather well—it is all four of those things—though the style is often known as Flanders Red.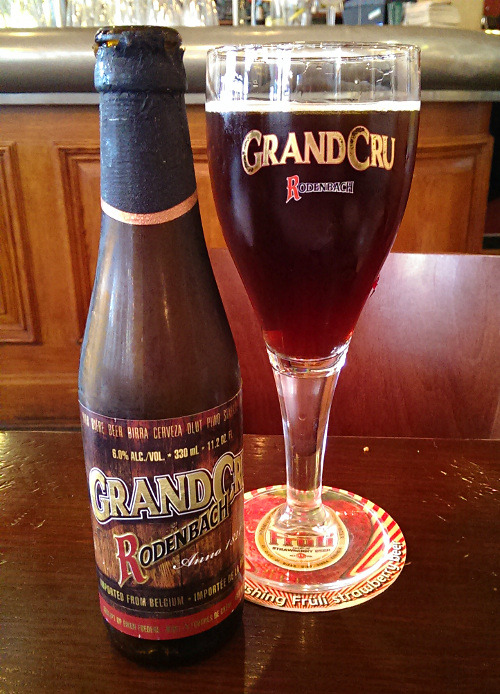 Rodenbach Grand Cru pours a lovely deep reddish brown colour, with a modest layer of tan foam sat nonchalantly on the top. The first sip is both sweet and sour in equal measure. Those flavours are followed by a smooth malty body full of tangy dried fruits, pepper and musty wild yeast.
If you concentrate, you can also detect the woody edge that results from the beer having spent the better part of two years ageing in oak barrels before bottling.
As someone whose experience of sour beers has been limited to things like Gueuzes from Cantillon, and The Kernel's hugely refreshing London Sour, this one comes as quite a surprise. One doesn't expect sourness from a beer of this colour, or as full-bodied as this.
And yet it works remarkably well: with a Gueuze it can sometimes be hard to taste anything beyond the sourness, but as a red beer, this is so well-balanced, with its malty sweetness complementing the sour beautifully.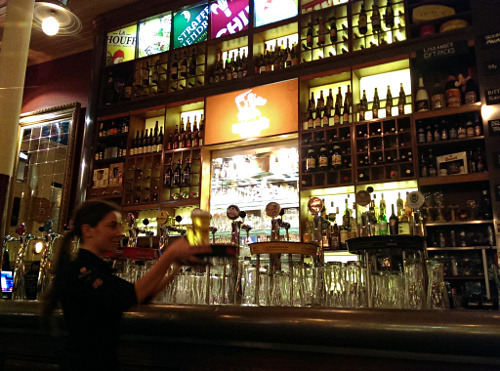 This is a deeply complex beer. There's so much going on that the experience of drinking it is closer to enjoying a fine wine than to knocking back a pint or two of lager in your local. It's even served in what appears to be an oversized wine glass.
Rodenbach Grand Cru really is special. It's a fine beer, though as with other sours, I can't imagine wanting to drink more than one or two in a session. That said, this is definitely one beer I'm glad that the blog has introduced me to, and one that I'll be enjoying again as soon as I can.
Facts and Figures