As the halfway point of this ridiculous project looms, we won't let the fact that we spent all day at the 30th Colchester Real Ale and Cider Festival prevent us from opening something nice.
This'll do. It's another Bière de Garde found at L'Abbaye des Saveurs in Lille, and lugged back home on the Eurostar. They present their beers well in Nord-Pas-de-Calais, and this is no exception.
The 750ml champagne-corked bottled seems ideal to crack open and share with friends Ben & Sophie over a sumptuous feed at their house in Essex.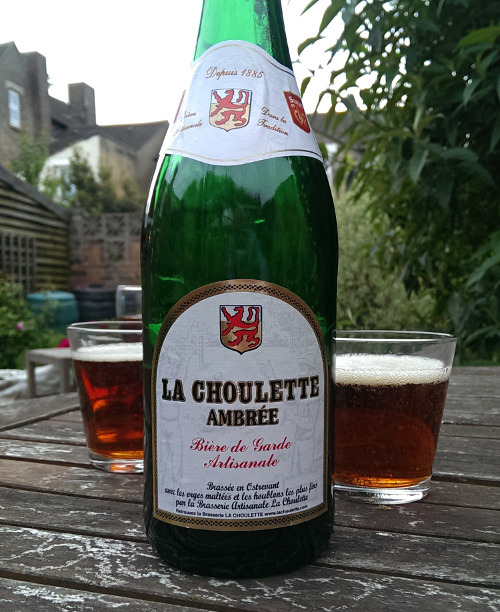 La Choulette Ambrée pours noticeably darker and stickier than the St. Sylvestre 3 Monts, the previous Bière de Garde the three of us shared. It's sweeter and richer too, making it more reminiscent of L'Angelus, another near neighbour, geographically speaking.
There still a lageriness to it, but it's a darker, more Bock-like lageriness, rather than the Pilsner crispness that the 3 Monts displays. There are Greek honey, caramel and toffee notes but also a pleasing lingering bitterness.
As such, it's probably less suitable as a table beer, but it did the job. The bottle did not last long at all, despite the generous 8.0% alcohol payload. You can taste that strength, but you don't mind. This one elicited another "that's actually quite nice" from Sophie, not a regular beer drinker.
And it is too. Something a little bit rare, a little bit different, and I can't think of a more pleasant set of circumstances in which to see off beer number 150.
Facts and Figures