Now then, here's something a little bit exciting. This is the first French beer to be featured on 300 Beers, and moreover it's the first Bière de Garde I've ever tried, as far as I can remember.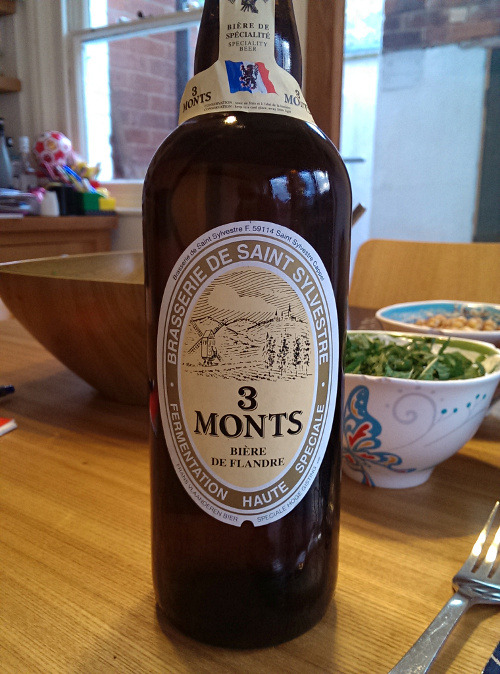 The term "Bière de Garde" means "beer for keeping", a name which harks back to times when beer was a seasonal product. This style of beer was brewed on farms during February and March, then stored in oak casks for drinking during the summer months.
St. Sylvestre 3 Monts is considered something of a classic of the style, though it has only been in existence since 1985. It can also be reasonably tricky to find, but once again, Utobeer came up with the goods this weekend.
Some beers really are meant for sharing, and weighing in at 8.5% ABV and coming in a generously sized 750ml bottle, this should probably be one of them.
Conveniently enough, Threehundredbeers had been invited out to deepest, darkest Essex for excellent food and company by good friends Ben & Sophie, which seemed as good an excuse as any to crack this one open.
As it turned out, I was glad to have some help with the actual cracking, because this is not the easiest of beers to get into. There's a sort of Champagne-cork style arrangement held in place with a sturdy staple, all sealed under a plastic sleeve.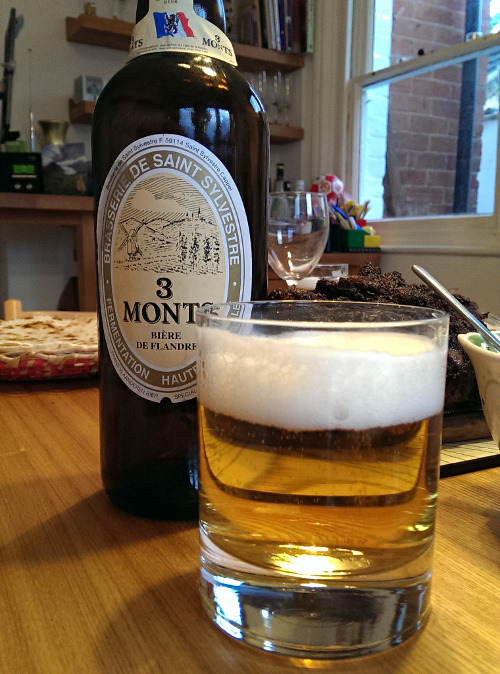 Once actually opened, 3 Monts pours a deep golden colour, with a frothy white head of foam. It's certainly an effervescent beer.
Despite this technically being an ale, since it is warm-fermented, the first taste is distinctly lagery. Perhaps that isn't surprising, as 3 Monts is made with Pilsner malts. Beyond that, it's mellow and subtle, and doesn't shout. Sophie, the non-beer drinker of the three of us, hit the nail on the head by declaring "that's actually quite nice".
And it is too. It's modest enough to complement food without upstaging it, yet robust enough to hold its own against spicier flavours.
While 3 Monts isn't especially hoppy, the finish is bitter enough to keep things satisfying. The magic really happens as the beer warms slightly to about cellar temperature, when drier, more biscuity malt flavours come through, and there's even a hint of sour appearing.
Although 3 Monts is filtered, I suspect that sour note would become more prominent with ageing, as is the case with Orval, for example. If I can find another bottle, I may attempt to find out.
Interestingly, we all agreed that the hefty 8.5% alcohol payload was remarkably well integrated: this is not a boozy beer by any means. Instead it's a great beer for sharing, and is the perfect accompaniment to great food and great company.
Facts and Figures