Here's a beer that I've had my eye on for a while, being more than a little familiar with some of Oakham's beers, including their classic Citra, a very highly-regarded hoppy Pale Ale.
This one, the relatively sober 3.8% Jeffrey Hudson Bitter, or JHB to its mates, had eluded me for some time. That is, until I discovered that Oakham themselves have a pub in London—just the one, mind—and it's near enough to my house to make a nifty bank holiday afternoon excursion eminently achievable.
Let's pay a visit to Oaka at The Mansion House: part Asian restaurant, part rather smart bar, and permanent home to a very well-kept pint of Oakham JHB.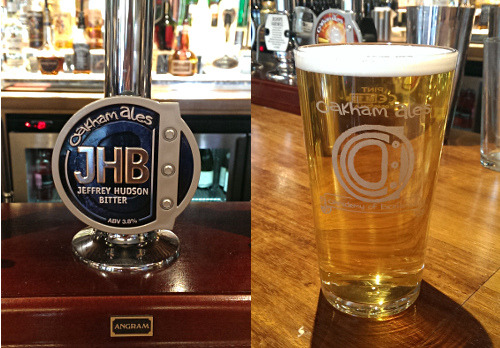 JHB is served here in peak condition, and in a handsome Oakham-branded pint glass. For a beer that styles itself a Bitter, JHB is remarkably pale, and is in fact a very pleasing golden colour with a spotlessly white head.
One taste confirms that it's a Bitter alright, albeit a very light, delicate example of the style. While the flavours are all quite subtle, you can make out butter, banana and vanilla notes, and there's a lightly bitter, hoppy finish to keep things satisfying and thirst-quenching.
You can sort of see why JHB has won every CAMRA award going, in some cases several times. But while I can't find a single thing actually wrong with JHB, I wouldn't describe this as the most exciting beer I've ever drunk. Still, that probably isn't the point: instead it's a hopelessly drinkable, sessionable ale.
If you're after a beer that you could drink several pints of without falling over, yet do actually care what it tastes like, I'm not sure you could do much better than Oakham JHB.
Facts and Figures