Here's a beer that's been sat in the Official Threehundredbeers Cellar (my spare room) for a while now. A lazy summer Sunday afternoon seems an appropriate time to crack open a chilled Belgian-style Wheat Beer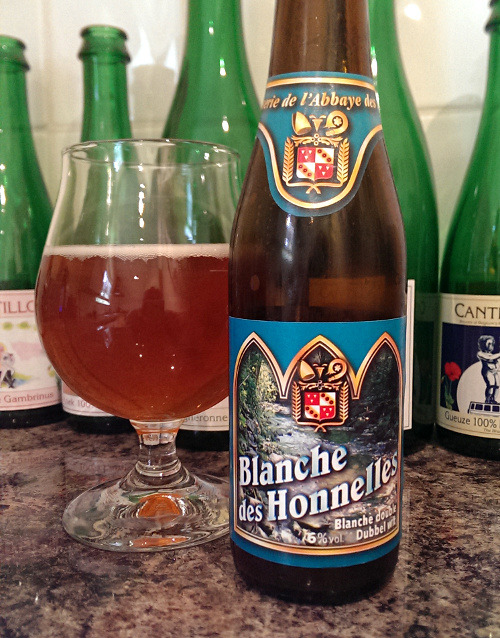 I always expect this style of beer to pour a cloudy white, but Blanche des Honnelles is another that comes out a vibrant golden colour. As always with a wheat beer, there's that moment of indecision where you try to remember whether you're supposed to pour the yeast into the glass too. A dilemma which resolves itself when you realise you've already plopped half of it in there while you were making up your mind.
The body is full and smooth, perhaps as a result of oats being used alongside wheat and presumably barley. There's a pleasant, subtle citrus aroma which reminds you that some folks like to add a slice of lemon to this style of beer. You wouldn't do that in public, of course, but I think it would work.
Beyond that, in terms of flavour, there isn't a great deal going on. Instead it's just a drinkable, refreshing tipple.
Indeed, this is quite an inoffensive beer, and you can see why it's popular in Belgium with the sort of drinker for whom a stonking great double-figures behemoth like Bush Ambrée or a rich, dark Quad such as Rochefort 10 might not hit the spot. The respectable 6% ABV strength is well hidden too. Blindfolded, I'd probably guess that Blanche des Honnelles weighed in closer to about 4%.
It's nice enough, all in all. A pefectly fine example of its style, but it's a beer that doesn't leave a great deal to say here.
Facts and Figures