One of the slight downsides of the 300 Beers project is that occasionally I'll have to sample a beer that I already know I'm not keen on. Hoegaarden, almost certainly the most famous of the Belgian-style Wheat Beers, is a case in point. But never mind, let's give it another try.
Hoegarden was created in 1966 by Belgian milkman Pierre Celis, regardless of what the "Anno 1445" on the label is intended to imply. It's made with 55% malted barley and 45% unmalted wheat, and spiced with milled coriander seeds and dried Curaçao orange peel. Finally, each bottle is primed with a small amount of sugar and fresh yeast, to encourage subsequent fermentation in the bottle.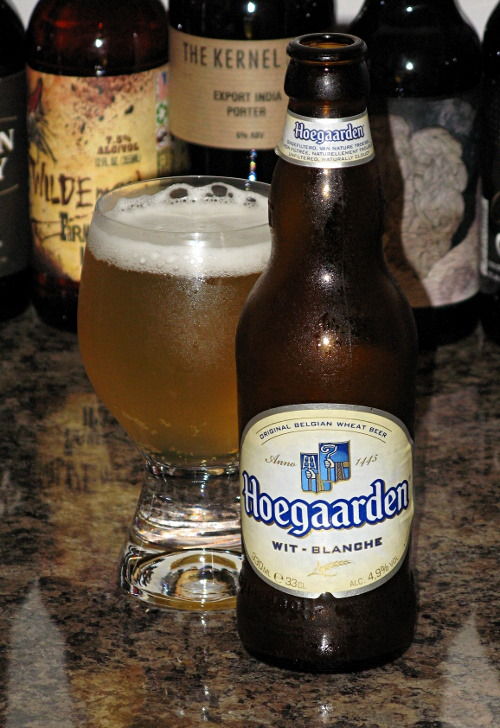 I'm struck that Hoegaarden pours a pale, golden straw colour, in contrast to the cloudy whitish colour I remember it being. I wonder if the yeast in this particular bottle has settled more than usual in the several months it has been sat in the kitchen while I dragged my heels over drinking it.
It certainly smells like a wheat beer, albeit a fairly light one, with those distinctive Belgian esters present as ever. Served chilled, Hoegaarden is a reasonably refreshing, summery beer, but it just isn't exciting. There's a bit of a void where the flavour should be—I can barely detect either the coriander or the orange peel—and I wonder if that's why some folks like to dress Hoegaarden up with a slice of lemon, so that at least it tastes of something.
While I'll probably never know for sure, it's a little hard to believe that today's Hoegaarden, brewed in vast quantities by international brewing giant AB InBev, let us not forget, is quite the same beer that old Pierre gave up his milk round for back in the sixties.
Facts and Figures