Since there apparently are not enough Belgian beers in the world, we now turn to an American brewery doing their best to recreate famous Trappist and other Belgian ales in a postmodern mockup monastery in Cooperstown, New York.
Brewery Ommegang was founded in 1997 by Don Feinberg and Wendy Littlefield, two Americans with a genuine passion for quality beer, and everything else Belgian, but primarily with a keen eye for business.
With Don and Wendy having sold their share of the company in 2003, Ommegang are now owned by the European brewing giant Duvel Moortgat.
Despite the pretensions to authenticity and Belgianness, since Ommegang's website contact page lists an extensive roll call of Public Relations, Marketing and Accounts managers, and almost nobody remotely involved with the brewing process, it's probably fair to assume we are not dealing with an artisanal craft brewery here.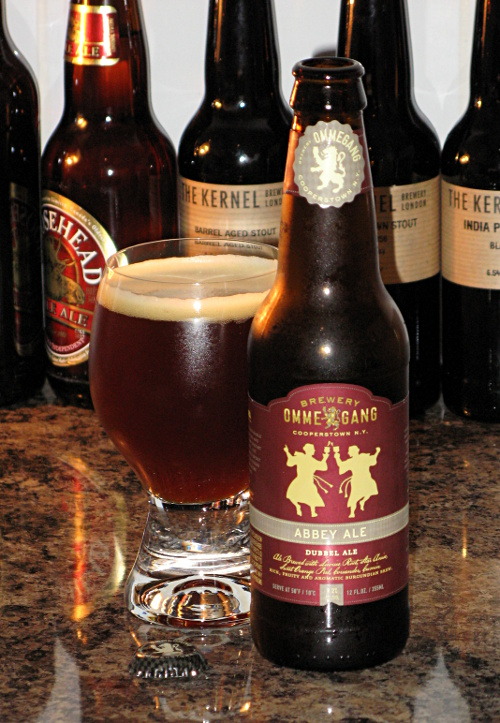 In terms of colour, Ommegang Abbey Ale is a lovely deep ruby, turning almost golden syrup-like in the right light. There isn't much in the way of aroma beyond a few peppery Belgian-style esters, but it certainly isn't lacking in flavour.
From the first taste, this is an intensely flavoursome beer. It's rich, dark and treacly, and packs in dried fruit, christmas cake and rum notes. It's every inch the Belgian Dubbel, but with every flavour turned up to 11.
The hefty alcohol content is hidden behind a slightly cloying sweetness, and unfortunately there's a somewhat watery finish that lets the whole ensemble down a little.
I suspect some people would absolutely love this beer, and it genuinely has enough to say for itself to justify some enthusiasm, but to me it just isn't the finished article. It's a good beer, but I suspect there won't be many Trappist monks losing sleep over Ommegang's run on their territory tonight.
Facts and Figures