It appears I've been a little negligent regarding blogging duties recently. Happily, the research has been continuing and I have a few beers to write up. That this one was sampled on the 30th of May will tell you how far behind I am, so let's crack on.
I can be certain of the date, because Brains Dark was found among the impressive cask lineup at the 30th Colchester Real Ale and Cider Festival. You may remember my visit to the Colchester Winter Ale Festival. This was a similar event except with hotter weather, and the garden was open.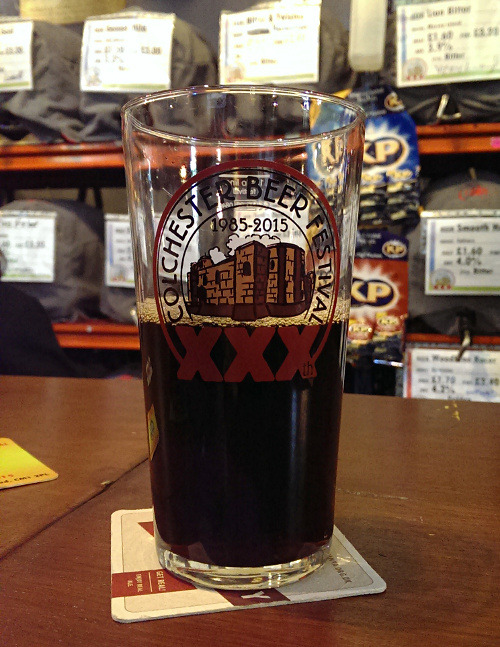 I say "garden". It was actually the graveyard, Colchester Arts Centre being a converted church, and I can say with some certainty that this is the first of the 149 beers so far to have been consumed in a graveyard.
Brains Dark is a 3.5% ABV Mild hailing from Cardiff in Wales. It was served here via gravity from a cask, in traditional CAMRA beer festival style. It's full of flavour: rich, bitter and with a big long finish. There are roasty, smoky notes too and it all goes down very easily.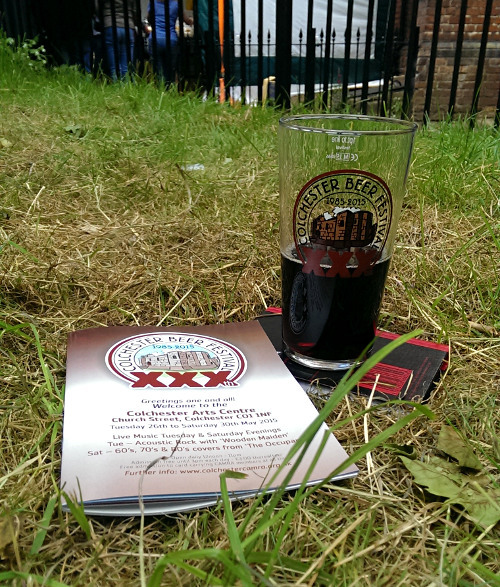 So easily that I didn't manage to take a great deal of tasting notes, not least as I was enjoying setting the world to rights with Official Threehundredbeers Essex Correspondent Ben, and boring the poor chap a little by banging on about my recent, er, "study" trip to Lille.
Needless to say, several further beers followed, including a welcome chance to revisit Beer Number 1, Robinson's Old Tom from back when I naively thought this would be a quick, easy project. Apparently I didn't think much of it back then, but I'm pleased to say I enjoyed it a great deal more from a cask.
Other beery highlights of the day included the formidable 10% ABV Thomas Sykes from Burton Bridge, who brought us that rather nice Empire IPA, and the relentlessly hoppy Houblon Chouffe, on tap at the Belgian bar.
All in all a grand day out, and we'll be keeping our eyes open for further Colchester beer festivals.
Facts and Figures