Threehundredbeers is still in Scotland, but a very picturesque Scotrail journey over the Forth and Tay bridges and on up the East Coast finds us in Angus to pay a long overdue visit to The Official Threehundredbeers Mother and her extravagantly-sized new German Shepherd, Kai.
I've brought a little something with me in my rucksack, sourced from the heaving shelves of The Beerhive back in Edinburgh. As the name suggests, Orkney Dark Island has come all the way from Stromness in the Orkneys.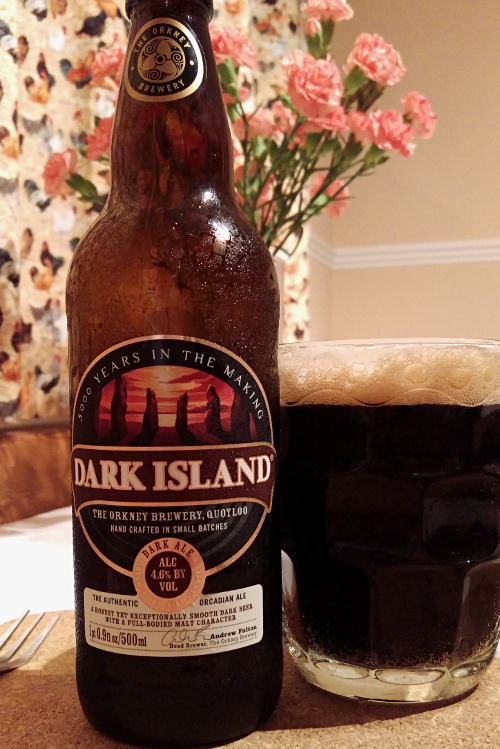 Orkney Dark Island is certainly dark: a deep chestnut brown that appears black in most lights. There's a small tan froth, though not a great deal of carbonation.
It's listed in The Book as a Scottish Ale, which seems about right. It's big and malty and very much at the sweeter end of the spectrum. But where a lot of Scottish ales can seem cloying to those accustomed to the hoppier beers from further south, this one is balanced out by toastier, almost Stout-like notes.
Dark Island goes down smoothly enough, though I'm not sure I made the right decision by choosing this as a pre-dinner beer. It's a little too heavy for that, and perhaps better suited to keeping you warm on a cold Orcadian evening. That said, there's a lightness to the body that makes it very gluggable indeed.
Good stuff. Back in Edinburgh I also found this one on cask at Bennets Bar, and that seemed to work well: smoother and fuller-bodied and the perfect preamble to a nice drop of malt whisky.
Facts and Figures