It may not always be obvious, but I do try to think about how to make some of these posts interesting for both my readers. And I had wondered what I could find to say about Pilsner Urquell, a beer that you can find by the bottle in any supermarket in the land.
So when the very pleasant The Canonbury up in North London announced they were to hold a Pilsner Urquell Oak Barrel Event this weekend, Threehundredbeers was predictably first on the scene.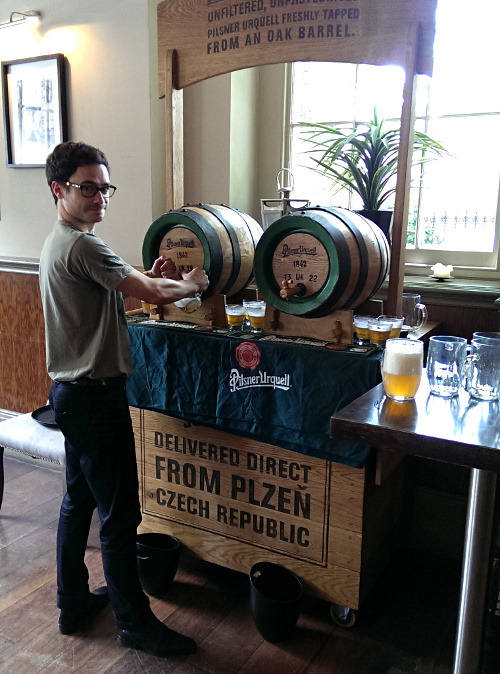 What we have here is unfiltered, unpasteurised Pilsner Urquell, drained directly from the lagering tanks at the brewery in Pilsen into a very limited number of oak casks, and then promptly escorted over to the UK to be dispensed by gravity into the glasses of eagerly waiting beer nerds who come from far and wide. All for the regular price of a pint of the keg stuff.
Having got in early, the beer was still settling when I arrived, and the first pint was mostly froth. It turned into actual beer quickly and I was invited to return for as many refills as I fancied, so I was a very happy camper indeed.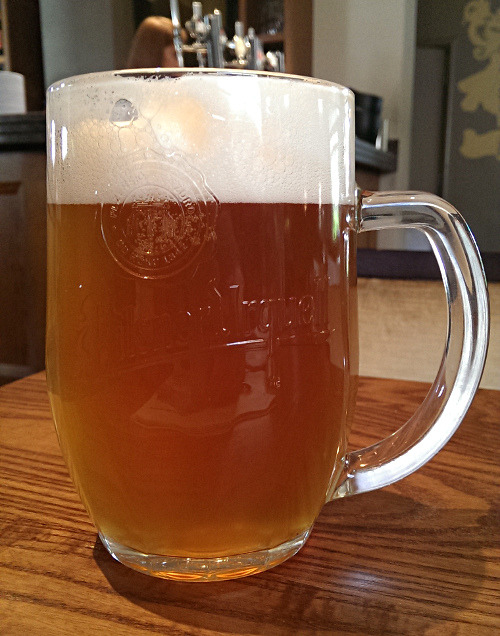 As you can see, the beer is a beautiful cloudy amber colour. CAMRA types should take note that this is what "real" beer actually looks like, rather than the artificially, chemically clarified stuff they seem to prefer.
The aroma is absolutely huge for a lager, and full of Pilsner malts, oak and restrained, floral hops. Being served at room temperature certainly helps.
To taste, the beer is quite subtle and delicate at first. It's full bodied and malty though, all Digestives and Rich Tea biscuits. This is not a sledgehammer of a beer. Instead it takes its time, and quietly works its way up to a gigantic, bitter finish, leaving you wanting more immediately. Back in the queue we go.
This really is special. It's still a lager, but with all the flavours turned up to 11. There's even banana fruit and a caramel richness in there, but absolutely zero sweetness. In fact this is one of the driest beers I've come across in a long time, and I like that.
I was told that the oaked Pilsner Urquell is the same strength as the regular stuff, which is 4.4%. Now, maybe I didn't have enough breakfast before setting off, but this one went to my head much quicker than a beer of that strength usually would. I'll survive.
Sadly, the last of this year's oaked Pilsner Urquell consignment has been drunk now, but I can strongly recommend keeping your eyes peeled for future events, and making your way along if some does turn up. I certainly shall.
Facts and Figures
| | |
| --- | --- |
| Brewery: | Plzeňský Prazdroj, Pilsen, Czech Republic |
| Style: | Pilsners |
| Strength: | 4.4% ABV |
| Found at: | The Canonbury, Canonbury Place, London N1 |
| Serving: | Oak cask, gravity, somewhat more than a pint |