Allow me, dear reader, to take you on a brief stroll down Memory Lane, or a least down St. Martin's Lane, to a magnificent little pub in the heart of London's West End named The Salisbury.
The Salisbury is a bit of a stunner: a proper old Victorian pub, with a well preserved Gin Palace interior full of etched mirrors, brass statuary and wood panelling, and more history than you can shake a stick at.
This is a pub where Dylan Thomas, Michael Caine and Terence Stamp have drunk, where Elizabeth Taylor and Richard Burton held their second wedding reception, and where Gered Mankowitz famously photographed a beautiful 27-year-old Marianne Faithfull in the 1960s.
Now, bear with me when I tell you that we're going to have a pint of lager.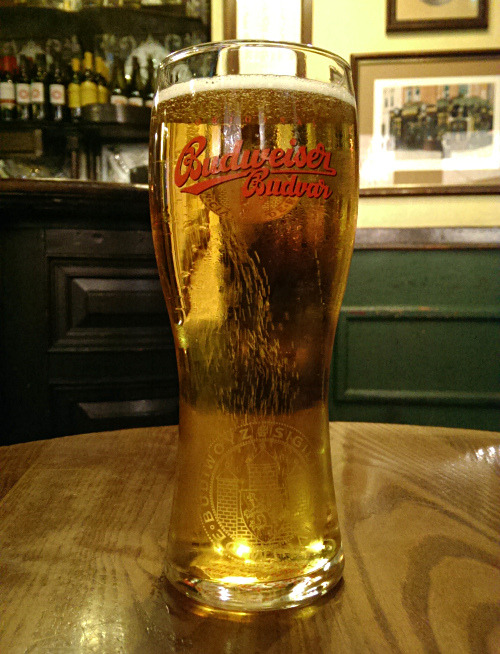 It's a good, Czech lager all the same and—you may be surprised to learn—it's what I used to drink of a far-too-regular lunch hour or evening in the Salisbury many years ago, when I used to work just around the corner. See, Memory Lane after all.
There isn't much to say about Budvar itself, in all honesty, unless one wants to read all about their legal struggles with Anheuser Busch once again, in which case go here. It's a fizzy, golden confection, quite drinkable as lagers go, with a malty, floral taste and a slightly sweet finish. But it's served here in peak condition, and in the correct glassware, which is why I brought you back here.
Beer aside, it's great to see that The Salisbury is still in good hands: manager Jas is still in charge, running a tight ship as always, keeping the pub resolutely sports-free, and effortlessly switching between languages as he guides tourists through a minefield of unfamiliar beers and British pub customs.
Easily one of the better pubs in the area, a bit of nostalgia for your correspondent, and that's 85 beers ticked off. If that was a bit boring, I have number 100 sat in The Official 300 Beers Cellar (my kitchen) and I can almost taste it now.
Facts and Figures