The next stop on our brief tour of London's West End takes us to De Hems, a historically Dutch-run pub and former oyster bar, music industry meeting place and alternative comedy venue on the edge of Chinatown.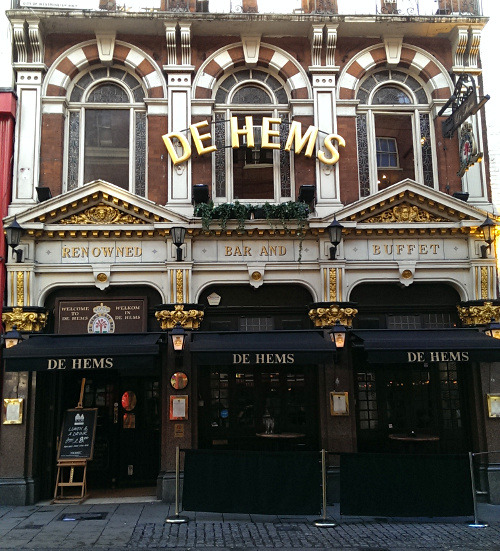 De Hems is steeped in history, but has fairly recently become part of the Nicholson's empire of chain pubs.
It's to Nicholson's credit, though, that they haven't squeezed the life out of it. De Hems is thankfully more like a continental beer café than a London chain pub, and its array of Dutch and Belgian beers, its list of bewilderingly-named Dutch foodstuffs, and its friendly welcome mean it remains as popular with natives of the Netherlands as with London office workers.
Most usefully for 300 Beers, it also has this particular Trappist ale on tap.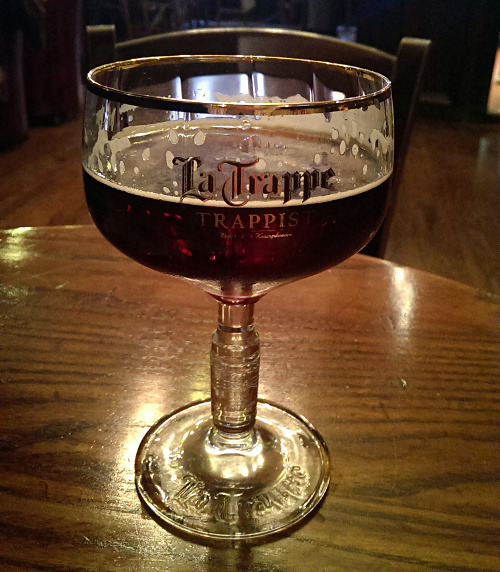 The Dutch-based Koningshoeven abbey was until recently the only Trappist brewery outside Belgium. It can be reasonably tricky to find their beer in the UK even in bottles, and I'm not aware of it being available on tap anywhere else.
You could have a pint if you liked, but as this one weighs in at 7.0% ABV and it's lunchtime, we'll stick to a half and enjoy having it served in the correct glassware, as is typically the case at De Hems.
Served from keg it's a little too cold, but as it warms in your hand it reveals itself to be the archetypal Trappist Dubbel: full of dates, sultanas and malt loaf. La Trappe Dubbel is smooth and very easy-drinking, and while the malty sweetness means it never quite tastes its full 7%, there's a nice, warming booziness all the same.
While a little lighter-bodied than the Westmalle Dubbel, La Trappe is still less watery than the Chimay Rouge, both obvious points of reference for what is a very similar beer. The finish is satisfyingly peppery and perhaps a little moreish.
Moreish enough that I had a second one anyway, and have since been back to De Hems for more, drawing a knowing smile from the barman. There are two more La Trappe beers to be tracked down, and I wonder if we may have to travel further than Chinatown to find them.
Facts and Figures