This is the third and final one of the three beers in The Book to hail from the Adelaide-based Coopers Brewery, following on from their Sparkling Ale, and their Best Extra Stout. I happen to suspect that this one is a little bit special.
This is Coopers Extra Strong Vintage Ale. A few breweries put out a Vintage Ale, which will typically be a limited edition, once-yearly bottling of a strong, high quality ale. Each year's vintage will tend to take on its own unique characteristics, and once in the bottle, will improve greatly for years to come.
This is one beer that I thought would be a challenge to get hold of—not least since these things typically become collectors' items within weeks—until it silently and without fanfare appeared on the shelves of my favourite local boozeteria.
And knock me down with a feather if this isn't the 2007 vintage, which was the first that was made available in the UK. The internet tells me there were only about 5,000 of these ever made. The bottle carries an oddly-specific "best after" date of 3:17pm on the 8th of June, 2007. No problem there then. It's probably about time to drink the stuff.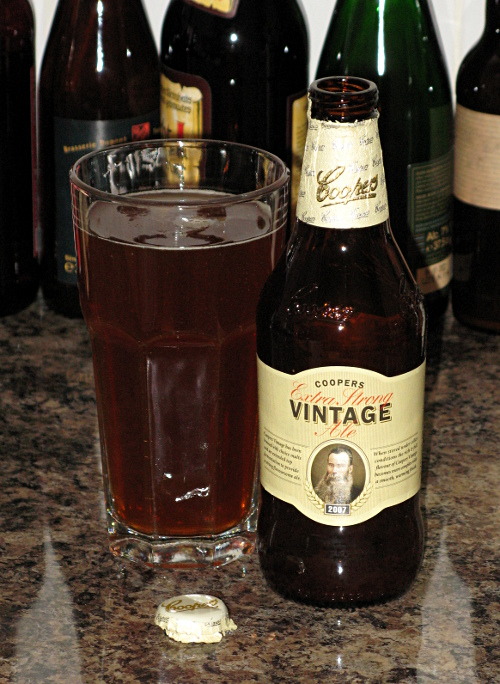 Once again we see Coopers stock 375ml bottle, with a hefty dose of yeast at the bottom to allow the beer to continue to ferment and improve in the bottle. As with Coopers previous beers, there's so much yeast in there that it's impossible to pour the beer clear, even if you wanted to. Instead it pours a dark, cloudy ruby colour with absolutely no head at all.
I've very little idea what to expect from the flavour: my only point of reference for a Vintage Ale so far has been a couple of bottles of too-young Fuller's Vintage Ale. That one is essentially a bottle-conditioned Barleywine, and there's certainly a hint of Barleywine in the aroma of the Coopers brew.
There's a lovely, spicy bonfire toffee note on top of that though, and I'm reminded strongly of Texels Bock, which is rich, sweet and thick, and tastes just like liquid Werther's Original candy.
To taste, that sweetness is there in spades but it's balanced with just enough bitterness to prevent it becoming cloying. The beer is still full of caramel and butterscotch, though, and the body is thick, rich and treacly.
At a nominal 7.5% ABV, the alcohol is warming without being overpowering, and I wonder if six years of bottle-conditioning hasn't made it a little stronger than the label states. Either way, this is not an everyday beer by any means: it's one to take time over and savour.
And it's good. I'm not convinced that it's six-year-wait good, but then I only bought it last week, so can't have any complaints. Even so, I've a couple of bottles put aside in the Official 300 Beers Cellar—my kitchen cupboard—and I look forward to seeing how it performs with another couple of years behind it.
All in all, I have to admit that Coopers have single-handledly changed my perception of Australian beer over the last few weeks, a little like Brooklyn Brewery destroyed my prejudices about American beer.
Facts and Figures