I was very pleased to get my hands on this one. You don't see a great deal of Alaskan Amber outside of its home country, and it's pretty much impossible to find at all here in the UK.
So when Threehundredbeers reader (apparently there are some) and Untappd buddy Garth mentioned he was off to Alaska and would be happy to bring a couple home, I jumped at the chance. We soon met up in Stormbird for a few jars and to trade a couple of beers. Garth took home a bottle of my dodgy home brew for his troubles, so I think I got the better end of the deal.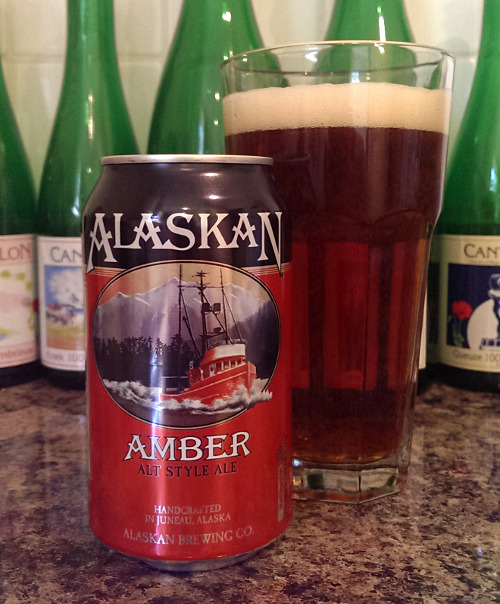 I can't compete with Garth's photos from the summit of Mount Juneau, where I imagine this beer tasted particularly fine, though it tastes pretty good in my kitchen in South London, to be fair.
Alaskan Amber is an Alt-style beer. Alt is a German style originating from the Düsseldorf area, and apparently introduced to Alaska by German prospectors during the Gold Rush. I remember enjoying the Diebels Alt and the Duckstein Original very much, so the chance to try an Alaskan take on the style is welcome.
It's certainly amber, pouring a rich, dark caramel colour with a smooth tan head. There's a bready, malty nose to it, with very little in the way of hop aromas beyond a floral hint of Saaz reminiscent of a good Pilsner.
That subtle hopping carries through to the flavour too. This is what beer bloggers tend to describe as a "malt-forward" beer: rich and full bodied with only subtle, fragrant hop notes. I don't imagine it's terribly easy to grow hops quite so close to the Arctic Circle, so that makes a lot of sense. In fact I'm reminded of those malty, sweet ales from Scotland, a part of the world with—if memories of my distant student years are reliable—a similar climate.
It's thoroughly drinkable stuff, too. I'm convinced this is a style of beer which would sell well in the UK, so it's a shame that you rarely see it. There's one more Alaskan beer to track down, but fortunately I have a bottle of that one patiently maturing in the spare room.
Anyway, huge thanks to Garth for finding this one, and for making me thoroughly jealous of his trip to Alaska.
Facts and Figures