Now then. For beer number 79, we turn to something a little bit special. Samichlaus is a remarkable beer, which has by turns been described as "the world's strongest lager", "perhaps the rarest beer in the world", and according to its own label, "the world's most extraordinary beverage".
Whether any of those claims is true is perhaps best left to the reader to decide, but let's just say it's a bit of a stonker. Brewed at Schloß Eggenberg in Austria just once per year on December the 6th, and then aged for 10 months before bottling, it attains a formidable 14.0% ABV.
You rarely see this stuff, but The Draft House's newest branch, on Seething Lane in the City of London, came up with the goods this weekend, instantly earning a place in your correspondent's heart at the first visit.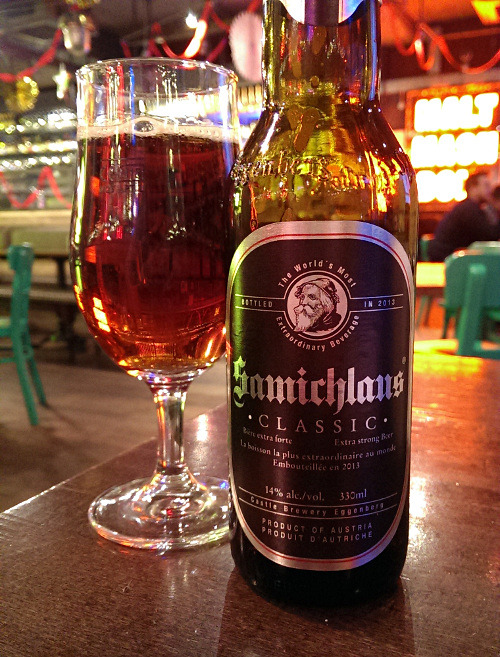 You can tell just by looking that this is something special, and it certainly is. Reminiscent of a Barleywine or Vintage Ale, it's rich, thick, spicy and medicinal, with a dense sweetness that can't possibly compete with the alcohol heat.
In fact there's a huge, warming alcohol hit that's very welcome indeed at this time of year. Your lips stick together, your face blushes a fiery crimson, and your head begins to forget all its troubles.
Yet behind all that booze, there's a truly delicious, complex beer full of dried fruit, spice and sherry flavours.
Samichlaus is the perfect winter beer by design, and it's one of those beers that you could drink all night if your wallet would stretch to it, or at least if you wouldn't fall off your chair half way through the second one.
It's lovely stuff, and a real winter treat. I may well be back for more.
Facts and Figures