The contribution that The Grape & Grain up in Crystal Palace has made to this ridiculous project so far has been nothing short of heroic, and continues with this oddly-named Best Bitter from the North East of England.
I'd been wondering how to find this one, so the moment "the Grape" announced that it was on the bar via their Perfectpint page, plans were hastily changed and Threehundredbeers was on its way up the hill.
Let's order a pint from the friendly young staff and take it outside into the spacious beer garden. In fact, in over a hundred beers covered, I think this is the first outdoor beer we've had. It must be summer.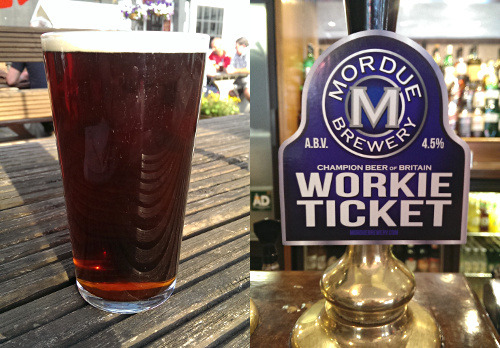 The name "Workie Ticket" apparently derives from a distinctly North Eastern term, the meaning of which is somewhat ill-defined. I've seen various explanations involving being a jobsworth, or trying to get expelled from the army, but I won't bore you with them, because no one really seems sure, and I imagine you know how to use a search engine at least as well as me.
The name of the Mordue Brewery itself dates back to the 19th century, but its present incarnation actually began life in 1995, shortly after which they were awarded Champion Beer of Britain for this particular brew. It's a famous beer then, though you rarely see it down here in London.
Mordue Workie Ticket is a handsome enough beer, pouring a deep rubyish bronze colour with a small tan head. Right from the first taste, it's full of flavour. It's a Best alright, but there's a big malty sweetness that's strongly reminiscent of a Mild.
The sweetness is backed up by a huge mouthful of spicy English hops, though, and there are dates, currants and other assorted dried fruits, but also some chocolatey and roasty notes that wouldn't seem out of place in a Porter. It all combines to make for a huge beer that's chewy, mouthwatering and very moreish.
I stuck at one pint though, because I suspect all that flavour could potentially get a bit overwhelming. Still, this was a very fine, restorative pint. I liked it a lot, and it's one that I'd happily drink again.
Facts and Figures