This bottle of Diebels Alt is the second beer from that Beers of Europe case I mentioned when we met Švyturys Ekstra. It's also the first beer to be covered here from the Alt and Amber Beers chapter of The Book.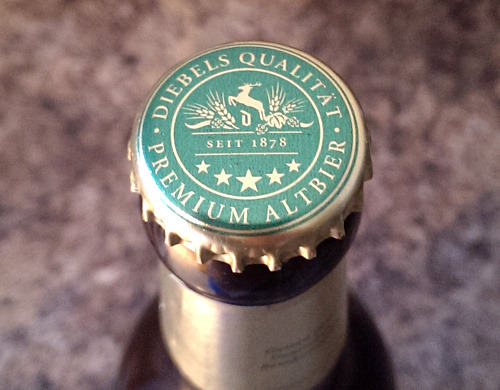 Which is terribly exciting, not least because I don't really know a great deal about the style at all. I know that Alt is a German style, and a little light reading tells me that it's predominantly brewed in and around Düsseldorf, just as this one is.
Interestingly, it turns out that the Alt style predates the widespread proliferation of lager in Germany. That's intriguing, because one tends to associate Germany strongly and almost exclusively with lagers such as Kölsch, perhaps with a few strange wheat beers thrown in for variety.
Which has me wondering what we're in for. We'd better give this a try, then.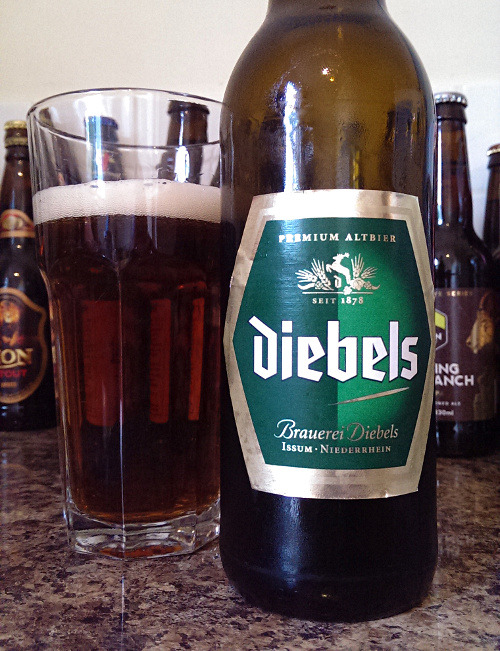 Diebels Alt immediately surprises me by coming out of the bottle remarkably dark. Held up to the light, it's a really deep copper colour with a creamy white head.
In fact, it looks more like an English bitter than anything I had expected from Germany. Perhaps I shouldn't have chilled this one overnight.
The beer smells deep and malty, a little like an ESB, but with a faint hoppy aroma that becomes distinctly peppery when you get your nose right in there.
And it tastes pretty blooming good, to be fair, especially after a long day at work. It's dark and slightly sinister, with those peppery flavours coming through strongly and complementing the plentiful rich dried fruit notes. There's a tiny hint of orange too, again reminding me of an ESB, in particular Fuller's.
There's a big old bitter finish, and a very modest degree of fizz, so despite being full of flavour, Diebels Alt is hopelessly easy-drinking. You never seem to see beers like this on tap in the UK, but it could be a great session pint, particularly served from a keg.
Well I never. That was all a bit of a pleasant surprise, and I wouldn't mind another just now. Still, there was another Alt in that case, so I imagine we'll be seeing that one in these pages before long.
Facts and Figures