I had wondered if I was going to have to make a trip up to Hertfordshire for this one. McMullen's appear to have countless pubs up that way, but happily I found this pint of AK a little closer to home, or at least to work.
The Spice of Life in Soho is quite familiar to me, having worked just across the road a few years ago. It's a famous place, apparently a cornerstone of both the folk and later punk movements. It's now a fairly traditional and very pleasant London boozer with charmingly friendly staff, but it still hosts regular live music, and the fish and chips I used to enjoy there is among the best I've ever had.
Yet I hadn't twigged it was a McMullen's pub, and so would perhaps be able to help 300 Beers out, until I started work in the area again recently. It's time for a brief jaunt up to the far end of Soho.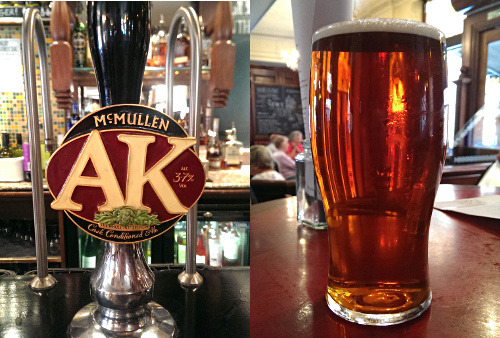 McMullen's AK is listed in The Book under Brown and Mild Ales, which I find hard to understand. I can't believe it has changed much in the intervening years, but it's absolutely, unquestionably an English bitter these days.
As such it pours a typical copper colour with a thinnish cream-coloured head that fades quickly. The aroma is all floral English hops, with a hint of pepperiness that carries through to the flavour.
It's in impeccable condition here, as you'd hope from the brewery's own pub, but even so I'm finding it hard to conjure up much to say about it. It's your standard session bitter—refreshing, tasty and, well, bitter, but it isn't deeply exciting.
Again, as with the Oakham JHB, that probably isn't the point. I personally prefer a beer that packs a bit more of a wallop, but if you like a decent cask bitter, you won't find much to complain about with this one.
Indeed, if you like "Real Ale" but are looking for something with a bit more flavour, I'm pleased to note that the McMullen's IPA and also the Country Bitter at the Spice of Life are very enjoyable beers indeed.
Facts and Figures