There are no less than four Meantime beers in The Book, an honour shared only by Tadcaster's Samuel Smith's, and also the venerable Cantillon brewery, which you'll remember I visited in Brussels.
Given that Meantime are based right here in South East London, it's perhaps a little remiss that I've not managed to cover any of them yet. So to put things right, I headed over to Meantime's neck of the woods, Greenwich, and to one of the two pubs that they own there, The Old Brewery.
The Old Brewery is a bar, restaurant and working microbrewery in the heart of Maritime Greenwich. Sited within the Old Naval College, right next to the Cutty Sark and the Thames, and with a spacious and attractive beer garden, I suspect I wouldn't want to visit in the height of tourist season.
However, on a quiet Tuesday evening, it was a very pleasant place to sample a couple of different Meantime beers, including the Coffee Porter.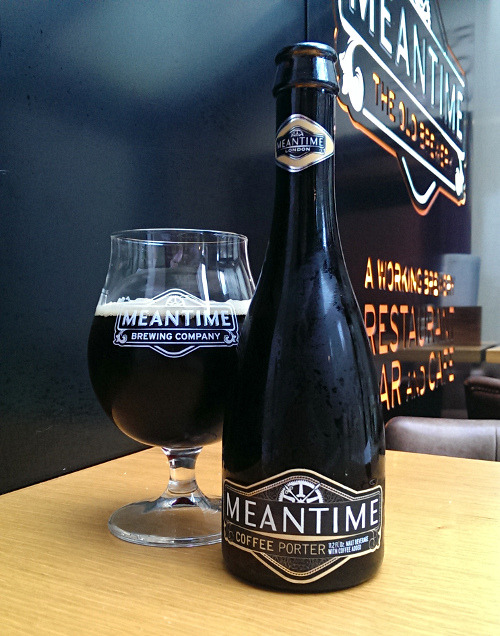 Strictly speaking, the Coffee Porter isn't in The Book. However the "Coffee Beer"—which seems to have been based on a 4.0% ABV stout—no longer exists, and has been directly replaced within Meantime's range by this somewhat stronger offering. I think this is as close as we're likely to get.
This beer tends only to be available in bottles, and this being Meantime's own pub, it's presented here with a rather handsome branded glass.
For a porter, it appears surprisingly thin when poured, and it's certainly quite rare to be able to see your own hand through a glass of porter. There's a frothy tan head that dissipates fairly quickly.
And of course there's a big, smoky aroma of coffee. Well, not actually of coffee, but of the sort of coffee flavouring you find in cakes, liqueurs and the like.
Thankfully, that thin appearance doesn't translate into an unusually light body, and the coffee flavour tastes a lot more natural than it smells.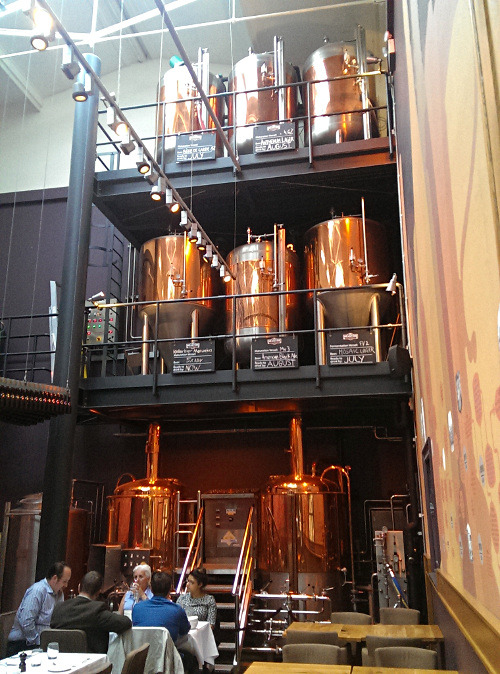 I don't usually care for flavoured beers of any sort, but in this case the coffee flavour is subtle enough to work well, and does complement the underlying porter well. Having said that, there's not a lot going on beyond the coffee.
This one was served chilled, which may not have helped, but as it warmed, more flavours did emerge, in particular quite a big, bitter finish that did make matters a little more satisfying.
If I'm struggling to sound enthusiastic, that's probably more down to my tastes than anything specific about the quality of this beer, which it's hard to fault. The Coffee Porter was pleasant enough as something a little bit different, but I'll probably try something else next time I'm in Greenwich.
Facts and Figures