It's my second day in Brussels, and for some reason I'm behind schedule already. That the previous night's visit to Poechenellekelder led to Moeder Lambic Fontainas and finally a nightcap and Kip Kap at A La Mort Subite may be a factor.
I'd hoped to make it to Delirium Café early. It's a Brussels institution which boasts a beer menu the size of a telephone directory, and which claims to stock around 3,000 beers. The plan had been to arrive at opening time and ruthlessly tick off a half dozen or so of the required beers before the inevitable crowds of tourists arrive.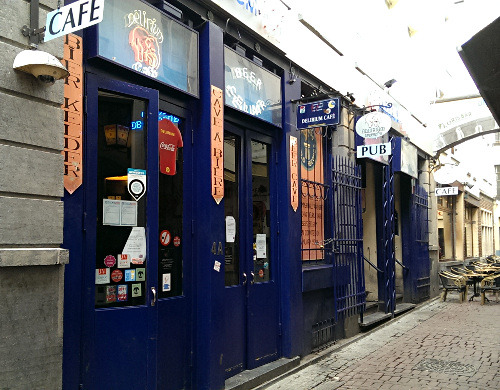 Instead, Threehundredbeers shambled its way down the stairs to Delirium's cellar at around lunchtime, more in need of coffee and food than beer. Still, duty calls. As does an absolutely lovely glass of something I've never seen in the UK named Saison de Pipaix.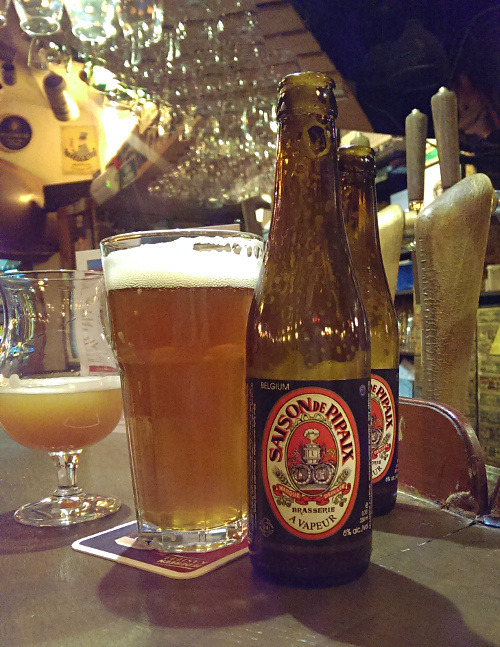 Saison is that uniquely Belgian style of beer that was brewed on farms at some point in the past to keep the workers hydrated, or at least to stop them complaining.
We previously met the archetype of the style, Saison Dupont. That's a true classic beer, so this one—from a tiny steam-powered brewery—has a lot to live up to. Let's take a seat at the bar and jab our fat fingers clumsily at the menu, rather than make a plonker of ourselves by trying to pronounce the name.
It's a lively little so-and-so, this one. Highly carbonated due to natural fermentation in the bottle, the beer frothed all over the place on opening. The very experienced barman had anticipated this, and had a second bottle to hand. Of course, that one practically exploded too.
A couple of apologies and some expert beer husbandry later, Threehundredbeers was presented with a large tumbler of the stuff—nearly two bottles for the price of one—plus a small glass of the yeasty sediment for tasting. For the equivalent of about £2. Happy days.
And what beautiful stuff it is too. Saison de Pipaix is quite different to the Dupont: a great deal fuller-bodied and bursting with malty sweetness. Oddly enough I'm reminded of Young's Special London Ale, an old favourite.
There are peppery hops and some interesting aniseed notes, and on sipping the little glass of yeasty gloop, there's the tiniest hint of Brett-like sourness, which seems appropriate for a farmhouse-style beer. Flavour-wise, there's a lot going on, which makes sense when you learn that Saison de Pipaix is brewed with the addition of countless things like anise, pepper and lichens.
Either way, this was a thoroughly restorative beverage, and very much hit the spot. A lovely beer in a fascinating bar. I'd have liked to stay a little longer, but was eager to make it to Brasserie de la Senne's tap room, a tram ride away, before closing time. Still, it seems likely that this won't be our last visit to Delirium Café.
Facts and Figures