Time for another substitution beer, this time replacing Bridgeport Blue Heron. Bridgeport brewery—formerly of Portland, Oregon—sadly no longer exist. What better excuse could there be to head to Colchester's very own Yorkshire Embassy, the wonderful Victoria Inn, and to sneak in a beer from one of Threehundredbeers' very favourite breweries, London's The Kernel.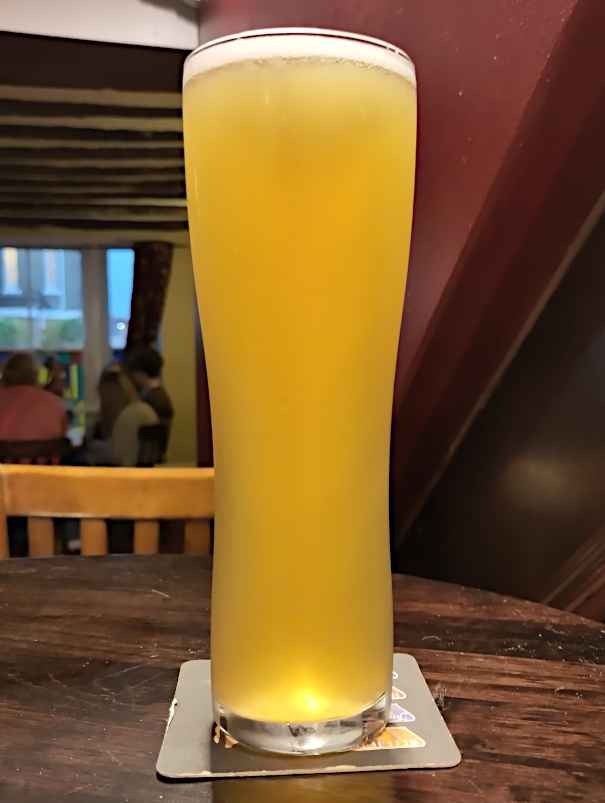 Back in London, Threehundredbeers spent many a lunch hour enjoying eye-wateringly fresh Kernel pales ales and IPAs, taking refuge inside the wonderful The Lyric in Soho. Not to mention the 9am starts sipping Imperial Brown Stout at the brewery itself. So it's always an emotional moment to find a Kernel brew in this modest provincial town city.
Quite literally every batch of Kernel Pale Ale is unique: everyone who works there, even the van driver, has their own brew day and gets to define the recipe. That said, there are some constants. This is a hazy, hoppy pale, based purely on Maris Otter malt and fermented with American yeast.
Yes, it's deeply hazy, and that's a good sign, CAMRA members. The beer is unfined, meaning it isn't artificially clarified using whale sperm purely for cosmetic reasons (note to author: more research needed). Instead the flavour and beery, malty goodness go in your mouth rather than down the drain.
This batch is, as one might expect, deliciously citrussy, dry and with a crisp, bitter finish that lasts. That's all balanced by a smooth, clean rounded body and tropical fruits from the Simcoe hops. It goes down a treat, so Threehundredbeers was straight back to the bar (mind the step) for another.
A superb pint in a great pub. There's very little doubt that you'll see more from both the Kernel and the Victoria in these pages in due course.
Facts and Figures