I've had this poor old bottle of Marston's Pedigree sat around for a little
while now. Amid a sea of Belgian Trappist ales and craft-brewed American Barleywines, it has been difficult to get excited about this relatively commonplace, corner shop-bought Burton Pale Ale.
That's clearly unfair, as Pedigree is a very well-regarded beer and is something of an English classic.
Pedigree is nominally the second Marston's beer to be covered here, after their very tasty Old Empire IPA, but in fact the company is something of a supergroup, owning the Jennings and Brakspear brands, along with Ringwood and Wychwood, both of whose wares we'll soon be tasting.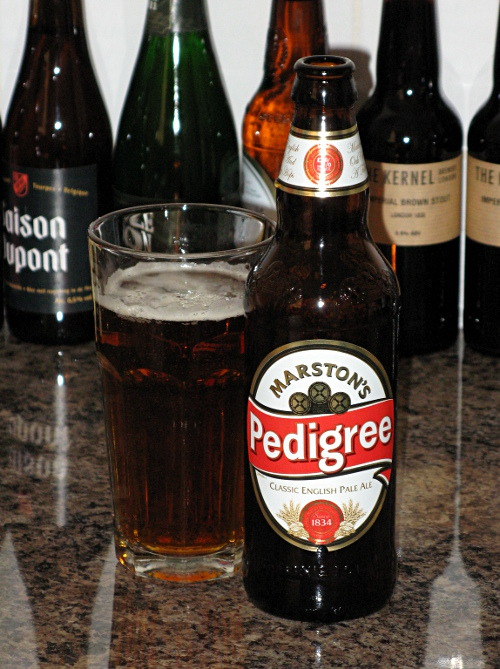 Marston's Pedigree pours a warm amber colour with a smallish off-white head. The bottled stuff weighs in at 5.0% ABV, a little stronger than the cask version's more sessionable 4.5%.
Despite a fairly mild beery aroma, Pedigree is absolutely chock-full of flavours. It has a hefty malt backbone and a generous dose of English hop bitterness. There's some light, vinous fruit and the distinct saltiness for which Burton ales are known, due to the famous local water.
Despite all those flavours vying for your attention, proceedings are remarkably civilised: everything is beautifully well balanced, resulting in a hugely drinkable, classic English beer.
Though I must have had Pedigree in a boozer at some point in the past, I look forward to trying it on cask before long, and I suspect next time I have a bottle in, it won't hang around for quite so long. Good stuff.
Facts and Figures
| | |
| --- | --- |
| Brewery: | Marston's Beer Co, Burton upon Trent, Staffordshire, England |
| Style: | Pale Ales |
| Strength: | 5.0% ABV |
| Found at: | Maxy Supermarket, Norwood Road, London SE24 |
| Dispense: | 500ml Bottle |