This is this blog's second trip to the land of Oz, and also our second beer from Coopers, having enjoyed their famous Coopers Sparkling Ale a few weeks ago. In the meantime, I've also tried their Original Pale Ale once or twice, and found it to be most refreshing.
Truth be told, I'm developing a bit of an affection for this plucky Adelaide brewery, swimming as they are against the tide of flavourless golden lagers for which so many Australian drinkers have so much affection.
This beer is as far from your stubby of Foster's as you're likely to get Down Under: it's a bloody great unfiltered, bottle-conditioned stout weighing in at 6.3% ABV.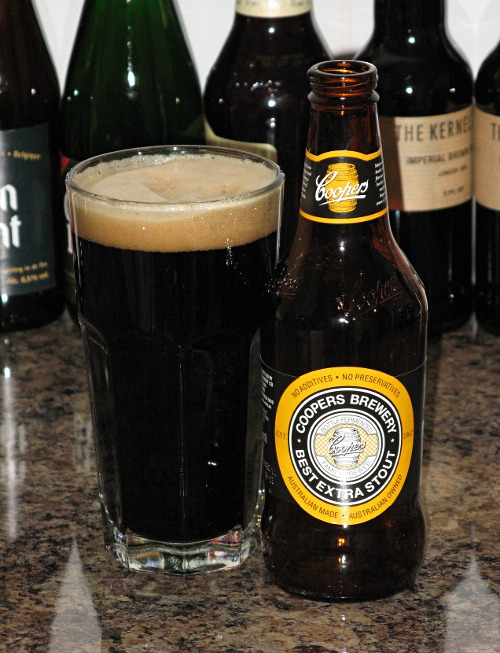 Here we have Coopers signature 375ml bottle, and you know you're in for something a little bit special when your beer has a "best after" date and no sign of a "best before". This one's label suggests it should not be drunk until after 9:12 in the morning on Boxing Day 2011. No problems there then. By my maths this one has at least a year and a half under its belt already.
That's good, because being bottle-conditioned, just like the Sparkling Ale, there's a good dose of yeast sat in the bottom of the bottle, helping the beer to ferment in the bottle, and to continue to improve year upon year.
While many brewers recommend that you let their bottle-conditioned beers settle upright, then pour carefully so as not to land the yeast in your glass, Coopers helpfully suggest a variety of rolling, twisting and agitating rituals, each one tailored to the specific beer, to reintegrate the yeast in to the beer before pouring. I just gave it a little shake.
Coopers Best Extra Stout pours as black as you like, as befits a quality stout, with a big tan head that sticks around tenaciously. The nose is all dark bitter chocolate, freshly-ground coffee and soot courtesy of the roasted malts. It's a stout alright.
It's reasonably full-bodied, though lacking the sheer velvet luxury of the Brooklyn Black Chocolate Stout, which I'm aware that I mention in every single review, or The Kernel's magnificent Imperial Brown Stout.
That said, the Coopers offering is easier-drinking and more gluggable than those two hooligans, whilst still being a big, big stout. There's a hefty, raisiny dried fruit flavour in there which reminds me, interestingly enough, of Bishop's Finger and a massively dry, bitter finish that embiggens as the beer reaches room temperature.
This is a good stout and no mistake. In fact I suspect it's the best stout being made in Australia right now, though I'd be delighted to hear of a better one. It's still eclipsed by several British stouts, obviously, but it puts many of our weaker efforts to shame. Good stuff once again from Coopers.
We'll be returning to Coopers Brewery one more time, and quite soon. Stay tuned, because I have an inkling that the third and final Coopers beer might just be something a little bit out of the ordinary.
Facts and Figures