This is the third and final beer we'll meet from the Brooklyn Brewery, having already tried the Vienna-style Lager and the magnificent Black Chocolate Stout. They were both cracking beers, so I have high hopes for this one.
Brooklyn Brown Ale was originally brewed as a seasonal beer, but proved so popular that it found its way into Brooklyn's core range. It has subsequently been tweaked heavily over the years by Brooklyn's famous Brewmaster Garrett Oliver.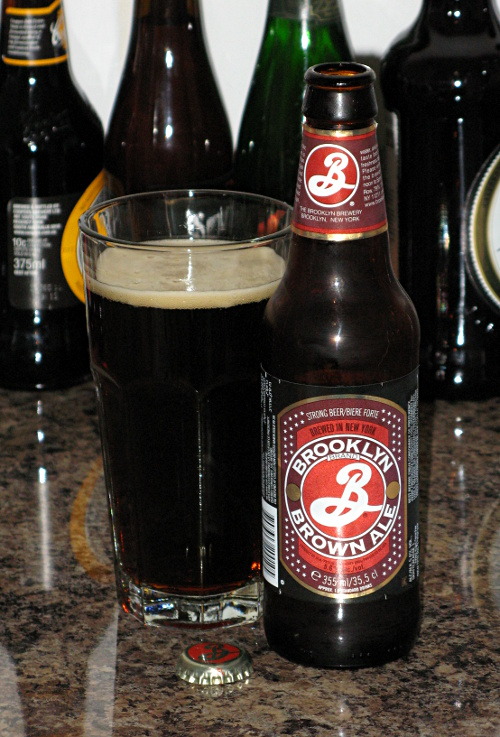 There's that smart Milton Glaser-designed Brooklyn branding again, though the label replaces the Brooklyn Lager's green detailing with an appropriate-seeming reddish brown colour scheme.
The ale is certainly brown, pouring a deep chestnut colour with a small tan head. It's a smooth, drinkable beer with a slightly lighter body than I expected. It's full of deep roasted flavours and nutty, bonfire toffee sweetness.
There's a slight bitter finish, though the hop bitterness isn't especially pronounced, despite a generous amount of hops being used in the brewing process.
All in all, with their Brown Ale, Brooklyn have created a successful modern American twist on a classic British style of beer, ramping up the malts and strength to create a deeper, more complex brew that remains pleasantly refreshing.
I can't help thinking this would be a great beer to cook with, perhaps in a steak and ale pie or game casserole, but I'll stick with drinking it for now.
Facts and Figures