Now, here's a beer I have been looking forward to. I haven't had a Fraoch for at least 15 years, at which time I was a student up in Edinburgh. This Scottish heather ale was always a special treat in those days, being a little more expensive and harder to get hold of than the McEwan's 80/- ale that was my main tipple.
Still, I had a bottle from time to time, and even remember enjoying it as a guest cask in the Blind Poet. Almost as much as the native barman enjoyed my attempts to pronounce the name correctly.
Since I spotted this one in The Book, I'd been wondering how I'd get hold of a Fraoch here in London. I needn't have worried: as is so often the case, Utobeer have it covered.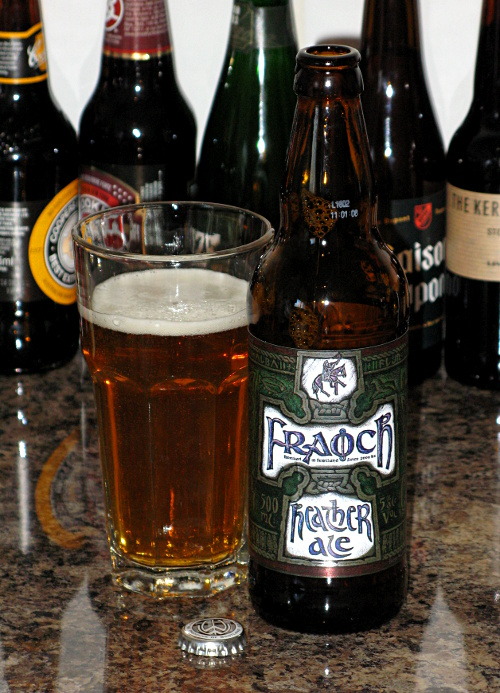 Fraoch Heather Ale pours a lovely deep golden colour with a small white head, and there's a very subtle floral aroma.
Fraoch is lighter bodied than I remember, but no less smooth. Scottish ales tend to employ very little in the way of hops, so are unlikely to be particularly bitter, and this one is no exception. Instead there are floral flavours, courtesy of the heather and bog myrtle with which the beer is brewed, and a slight peppermint note too. The finish is vinous and slightly sweet.
The beer doesn't have a huge amount of depth to it, which isn't quite how I remember it, but it's nice enough. The botanicals are sufficiently subdued that I probably wouldn't detect heather specifically if I didn't know it was in there. I don't consider that a particularly bad thing: I still want my beer to taste of beer.
All in all, Fraoch is an enjoyable beer, a little bit different, and I can certainly see how it made a nice change from the ubiquitous 80/- all those years ago. A pleasant and welcome blast from the past.
Facts and Figures