It's with an almost crushing sense of inevitability that we come to try yet another beer brewed by Belgian monks, one of countless that are left to cover.
Never mind, this at least gives us a chance to try a Tripel, one of several designations of Trappist beers, and to compare and contrast with the Westmalle Dubbel we recently met.
In fact it was Westmalle themselves, currently Belgium's second largest Trappist brewery, who introduced the terms Dubbel and Tripel, terms which are now widely used in Belgium and beyond. The naming seems to originate from the number of crosses branded onto casks to indicate strength, in contrast to an "Enkel" or "single", but nowadays the terms generally denote distinct styles of beer.
A Tripel will still typically be stronger than a Dubbel—the Westmalle example weighs in at 9.5% ABV whereas its Dubbel sibling is a more modest 7.0%—but the strength doesn't define the style. Whilst a Dubbel will be all deep dark, vinous malt and Christmas cakey dried fruits, a Tripel will be far paler and hoppier with more bitterness and lighter fruit.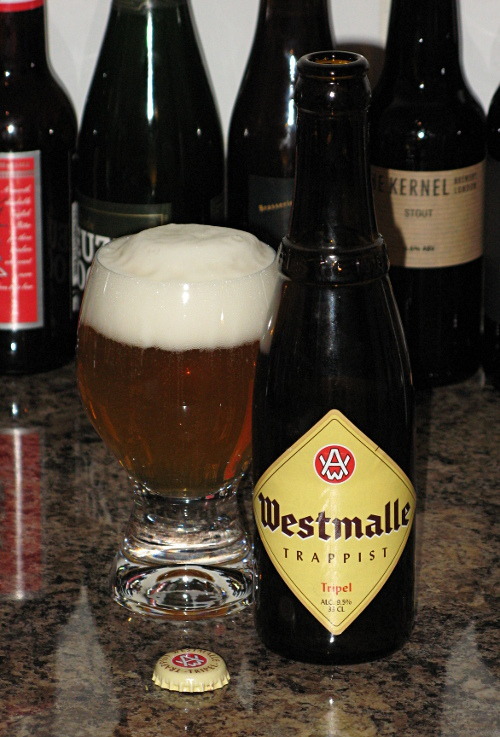 Westmalle Tripel is certainly paler than its Dubbel counterpart, pouring a slightly cloudy golden colour, with a pillowy white head that would make Mr. Whippy proud. You really have to take care pouring this one, as there's a good quarter inch of yeast sediment, including some great lumps of the stuff.
In fact, the yeast and the strength suggest this might be a good candidate to be cellared, or at least aged at the back of the kitchen cupboard, for a few years. It's too late for this one: the lid's off and I've a review to write.
The nose is broadly typical of a Belgian golden ale, with the distinctive esters front and centre, though there's a conspicuous dried banana scent bursting through.
To taste, Westmalle Tripel is quite different from any of the preceding 41 beers, with the exception perhaps of Orval, another Trappist beer that could probably have done with some age on it. There's an instant floral explosion in the mouth, and a bitterness and strong spice that's delivered direct to the tastebuds by the considerable fizz.
The body is quite light, and that bitterness is pretty harsh, truth be told, not least as it's accompanied by a saltiness reminiscent of Orval's. There doesn't seem to be a lot of subtlety about this beer, as it finishes by paintstripping your mouth dry. But kind of in a good way.
I actually quite enjoyed this beer, but it's clear this is not the finished product, as all those flavours fall over each other to vie for your attention. Westmalle Tripel really needs at least a couple of years in the bottle to calm it down, so I'll be putting one or two away. Who knows, if I ever get through the remaining 258 beers, I may revisit this one and see how it's grown up.
Facts and Figures