Having been so pleasantly surprised by Anchor Steam Beer, I was impatient to crack on with the second in the triumvirate of Anchor beers in The Book (on which note, if anyone knows where I can find the Old Foghorn in London, do let me know).
Anchor Liberty Ale comes in a similar bottle to the Steam Beer, but with its very own sailor tattoo. Let's see how it compares.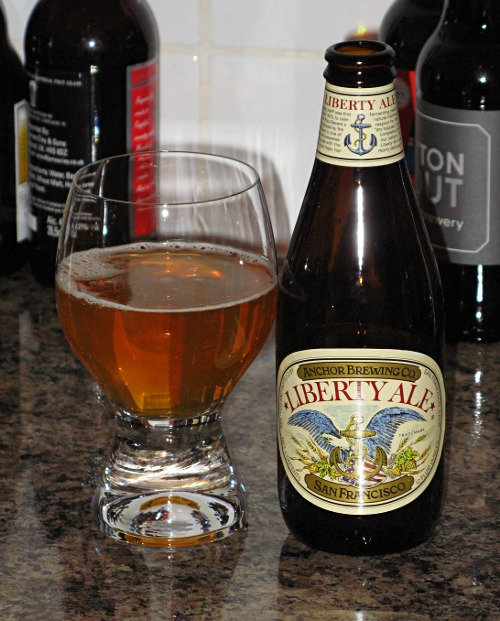 Liberty Ale pours a nice enough, slightly hazy golden colour, and is relatively pale even for a Pale Ale.
In our big yellow bible of beer, Roger Protz describes Liberty Ale as "massively" hoppy, and "an assault of pine and grapefruit", followed by a "long and lingering finish". He must have more sensitive tastebuds than me, because to me it just tastes a little bit hoppy, and a little bit plain, with something a bit funky going on in the aftertaste. That's the bad kind of funk rather than the Nile Rodgers kind.
In some ways I'm not surprised to learn the Liberty Ale was inspired by fairly dull English bitters like Timothy Taylor's Landlord and the Marston's Pedigree I bought some time ago and haven't troubled myself to drink yet.
It's not a patch on the Anchor Steam Beer, and once again I feel I'm being slightly unfair in comparing one beer to a quite different beer that I just happened to like, but there you go, it's my blog. It's not a bad beer, but to my tastes, nothing to write home about.
Facts and Figures
| | |
| --- | --- |
| Brewery: | Anchor Brewing Co, San Francisco, CA |
| Style: | Pale Ales |
| ABV: | 5.9% |
| Found at: | Bossman Wines, Lordship Lane, London SE22 |
| Dispense: | 355ml Bottle |