Finally, our first of several trips north of the border to Scotland. I'm wondering if this will be a nostalgic experience, reminiscent of my student years drinking 80/- ales in the pubs and bars of Edinburgh until 3am.
That said, my only actual experience of Harviestoun's beers dates from far more recently, here in London. I've had their Old Engine Oil porter a few times in The Commercial, SE24, and couldn't get enough of it.
This one seems a bit of an enigma though. Its Clackmannanshire provenance suggests a smooth Scottish ale, the name suggests it might be a bitter, but the label tells me it's a blond beer. There's only one way to settle this.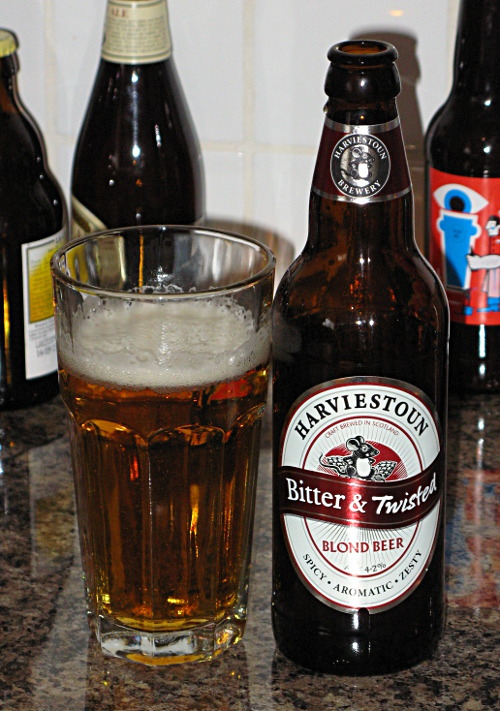 Fair enough, it's a blond, bitter Scottish ale, and very nice it is too. As is often the case in Scotland, it's made from Barley, Wheat and Oats, which is about the only thing it has in common with Bosteels Karmeliet Tripel.
At 4.2% the Bitter and Twisted is eminently sessionable. In that respect, we're vaguely into the territory inhabited by the recent Timothy Taylor's Landlord, but I have to say this one is noticeably more exciting and indeed satisfying.
This is a really good, hoppy bitter and it's hopelessly drinkable. I'm not sure I picked up on the "like the twist of a lemon" notes that the bottle promises, but that's probably for the best given my tastes. The hops are front and centre, and deliver a mouthwatering bitterness, while the restrained use of carbonation prevents things getting gassy.
Good stuff, and I'd certainly knock back another bottle if I had one. Perhaps more to the point, I'd love to find this in more London pubs in place of the relentless tide of Doom Bar and London Pride that we're usually offered.
Facts and Figures