It's Friday, it's lunch time, and the office is eerily quiet, so let's sneak out to the pub for a well-earned spot of light refreshment.
It'll be a good opportunity to try the Glasshouse Stores, one of the countless Sam Smith's pubs that lurk around the nicer end of Soho, luring in passers-by optimistic that they may be able to requisition a pint of their favourite brand of beer within.
They can't, obviously, as it's all Sam Smith's beers in here. That's fine with us, because we've a fourth and final one to track down. This is the Organic Pale Ale, formerly known as Old Brewery Pale Ale, but rebranded a couple of years ago when organic things seemingly became more fashionable than old things.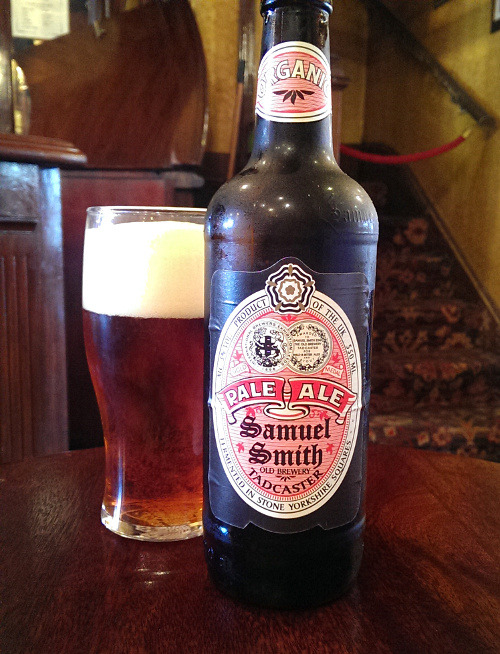 The Glasshouse Stores itself is a very nice old thing, or at least looks it. It's a bit of a cosy timewarp, with its etched mirrors, acres of timber panelling, and warren of tiny rooms that you know are there but can't seem to find a route to. It successfully manages to pull off feeling like a decent local boozer despite its location, and for that it is to be commended.
Pouring the beer from its satisfyingly chunky, generously sized bottle, there's a big waft of enticing dark fruits, and the Organic Pale Ale comes out a very nice deep chestnut colour, albeit with a slightly alarming pinkish tinge.
There's a big cream-coloured head, and indeed a lot of fizz due to the carbon dioxide added to the bottle, which seems a surprising choice for such a traditional style of beer.
It's tasty though, that's for sure, and full of malty sweetness and dried fruit. So much so that I'm actually reminded of a Barleywine, which I didn't expect. The spicy English hops provide a big, satisfying bitter finish that's very moreish indeed.
There's a lot of depth and complexity in there, yet served well chilled it's refreshing too, and thoroughly welcome on what was the hottest day of the year so far.
I stuck at one and drifted back to the office, but this is a beer I'd happily drink again. I happen to know it's a great accompaniment to your traditional sort of pub food—fish and chips, burgers, that sort of thing—but I'll save that for a cooler day.
Facts and Figures