It's not every day that one finds oneself drinking a Sri Lankan beer, so this could be interesting. In some ways I'm surprised to learn that any beer at all is brewed in Sri Lanka, let alone a thumping great stout.
It turns out that there are at least three breweries there, with Lion Brewery, formerly the Ceylon Brewing Company, tracing their history back to 1860.
This one came in an exciting case from Beers of Europe quite some time ago, and according to the label it is best consumed before, well, tomorrow. I'm not particularly worried since a 7.5% ABV stout should age quite happily, but it's a good excuse to crack it open.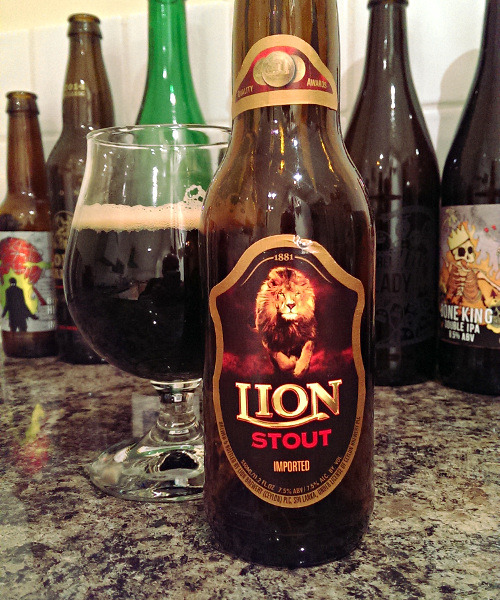 On doing so there's a big bitter chocolate and coffee aroma that's instantly reminiscent of the Guinness Foreign Extra Stout. Apparently I liked that one, so no complaints there. Lion do actually brew Guinness under licence, so I wonder if that's entirely a coincidence.
Lion Stout pours thick and black like a proper stout should. There's a pleasingly thick coffee-coloured head that dissipates fairly quickly.
To taste, there's an immediate, full-on and tangy berry-like sharpness. It's full of fruity notes that oddly are not dissimilar to something like the sour cherry flavours in a Begian Kriek, such as the Cantillon Kriek.
It's full of coffee and chocolate notes too, and a touch of sweetness not unlike a milk stout, though I'm sure there's no lactose goes anywhere near it. A big hoppy bitterness suggests this one would develop in the bottle for a good while yet.
This is a decent little bottle of stout. It's a proper winter beer though, so I'm not sure how well it goes down in Sri Lanka's tropical climate. Still, they seem to like it. I rather like it too and I've glad I've had the chance to try something quite so exotic.
Facts and Figures