It's been quite some time since we ticked off a beer from the Wheat Beers section of The Book, and even longer since we tackled a sour beer. Thankfully, the magnificently cornucopial BottleDog have recently had Berliner Kindl Weisse, a sour German wheat beer, in stock.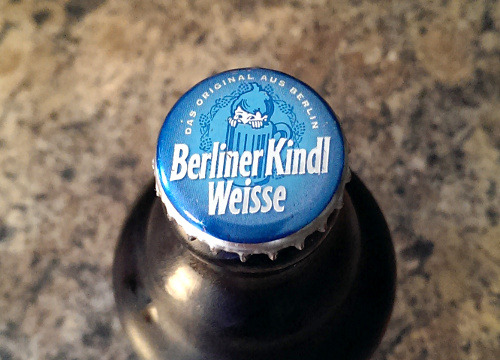 I learn from Official Threehundredbeers German Correspondent Carmen that in Germany this kind of beer would typically be enjoyed in the summer, and mixed with herbal or fruit flavoured syrups. It's certainly summer here, but I wouldn't know where to find woodruff flavour MIXcups in this country.
Maybe it's better to simply find out what the beer tastes like first anyway.
I'm also informed that "Kindl" is a regional term meaning "child". I dread to think what the well-meaning party poopers at the Portman Group would make of that, not to mention the charming little picture of a thirsty looking toddler on the label.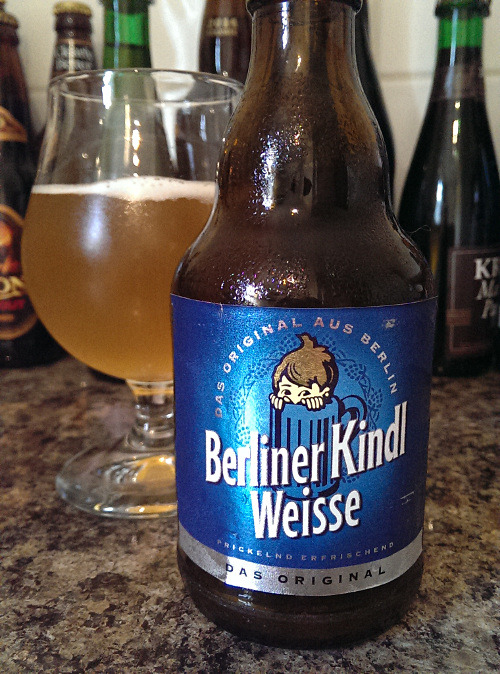 Berliner Kindl Weisse seems an unusually golden straw colour for a wheat beer, but then I'm reminded of the Kernel's Berliner Weisse version of their London Sour, which was much the same colour. There's a healthy dose of white froth that disappears quickly.
To smell, it's a pungently sour beer, and I certainly can't imagine the aroma or indeed the taste appealing to children. It's a relentlessly dry beer, which complements the face-puckering sourness well. The result is hugely refreshing.
It's light and effervescent too, quite unlike the cloying, musty Belgian-style wheat beers such as Hoegaarden. No, this is in a different league. There are notes of vanilla ice cream, sherbet and citrus fruit, without being in any way sweet.
I like it a lot, and I'm not sure I'd want to flavour it with fruity syrups at all. Perhaps one day, purely for research purposes, but otherwise this is definitely a beer I'd buy again to keep in the fridge ready for a hot afternoon.
Facts and Figures