As we reach one tenth of our way through The Book, we'd probably better tick off another of the many wheat beers.
Whilst I won't pretend the style is my favourite, the two examples I've covered so far—the Weihenstephaner Hefe Weissbier and the 8.2% ABV Schneider Aventinus—didn't turn out to be too much of an ordeal, so let's try another one.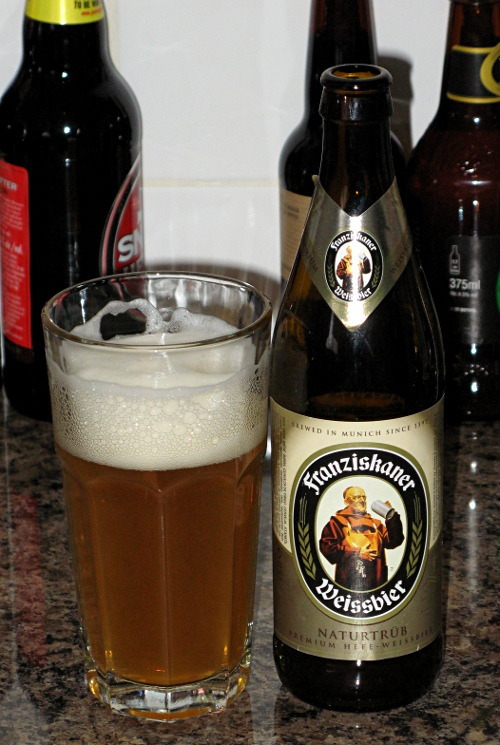 Franziskaner certainly looks the part, being a cloudy blonde colour with a large white head. There's the usual reference to monks on the label and in the naming, as seems to be almost obligatory in Northern Europe.
As for the flavour, to me this tastes like a typical wheat beer: more so than the surprisingly delicate Weihenstephaner, which is probably why I'm enjoying it less. On the other hand it's less interesting than the Schneider Aventinus, whilst thankfully being more restrained in flavour than the ubiquitous Hoegaarden.
It's hard to find anything particularly interesting to say about Franziskaner Weissbier. Nothing really jumps out about the flavour, but if you want a fairly standard wheat beer that's widely available in supermarkets and the like, you could probably do a lot worse.
Facts and Figures