Our latest offering from the many brewing monks of Belgian comes from Westmalle, the second largest of the country's Trappist breweries after Chimay.
Speaking of whom, I'm vaguely expecting Westmalle Dubbel to be reminiscent of Chimay Rouge, their both being 7.0% ABV Trappist beers with, er, with red labels. But appearances can be deceptive, so it's time once again to fire up the trusty bottle opener and find out.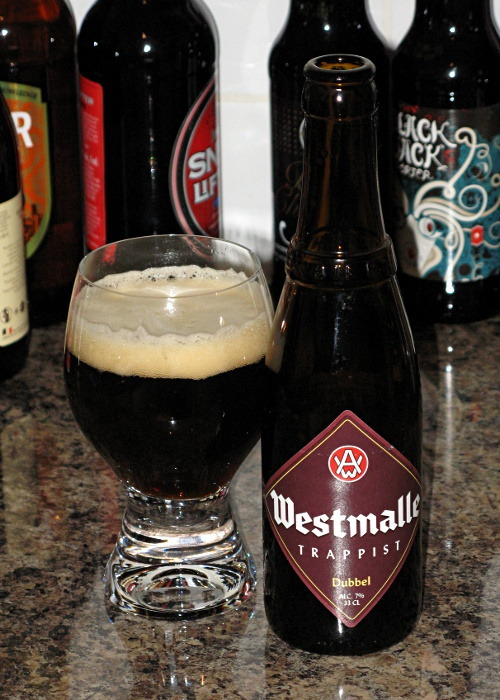 Westmalle Dubbel pours a lovely deep ruby colour, not dissimilar to, but darker and less cloudy than the Chimay Rouge, and with a big, fluffy white head that soon condenses to a dark beige lacing.
There's a lovely, fruity, berry-like nose with inviting, boozy alcohol notes. I'm reminded immediately of Brakspear Triple, and can't help but remark what an achievement is it for that plucky Oxfordshire brewery to be making beers that compare so well with these revered, ancient Belgian brews.
There are similarities in the flavour too: there's yet more dark, sinister fruit, toasty malts and butterscotch sweetness. The body is surprisingly light, though far from watery, and I wonder how that would change if one were to age a bottle for a couple of years or more.
There's a lightish finish too, with more toasty, slightly bitter butterscotch. That's a result of the brewing process, which sees the wort being boiled over a direct flame, allowing some of the sugars to caramelise.
Finally there's a pleasant warming afterglow from the alcohol, which I suppose there should be at 7% ABV, though it's curious how that starts to seem like quite a low number after some other Belgian beers I've recently blogged!
All in all, Westmalle Dubbel is really quite a wonderful beer and I've no doubt I would buy it again. There's also a Westmalle Tripel to track down—at a mere 9.5% ABV or so—and I'll certainly be looking forward to that.
Facts and Figures