Now, here's a post that I could probably write without even drinking the beer, being rather well acquainted with Thornbridge Jaipur IPA already.
Having said that, there are rules we must follow on this blog. I'm simply obliged to go and buy another bottle. Such hardship.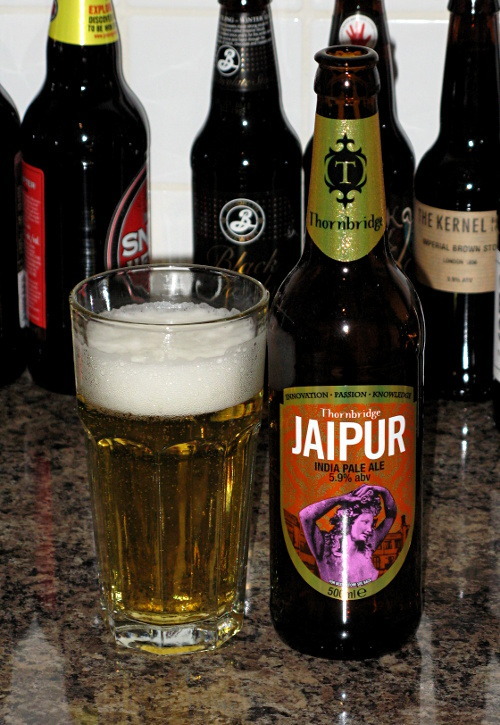 Thornbridge are one of the success stories of contemporary British brewing. Beginning life as a tiny craft outfit just eight years ago, they've managed to marry a traditional product—real ale—with bang up-to-date science and technology, along with an obvious nose and drive for business. In doing so, they've grown into one of the biggest names in the field today.
Over the years, Thornbridge have created a prolific range of beers, all of them innovative and of the highest quality, and at the same time, a burgeoning pub empire has emerged, particularly in and around Sheffield in the north of England.
Of their beers, Jaipur is probably the best known and most widely available, and it's fast becoming the modern British IPA against which all are to be compared. It's the epitome of a contemporary citrus hop bomb.
I must confess I'm a little spoilt when it comes to Jaipur, having last year enjoyed a couple of pints kept and presented to absolute perfection in one of Thornbridge's own pubs, the rather lovely Coach & Horses in Dronfield.
Served from cask, the smooth head and restrained natural carbonation help to balance out those zingy hops, resulting in a terrifically satisfying, moreish pint.
In a bottle, Jaipur is a somewhat different proposal, as you're hit full in the face by the huge fresh, bitter hops with their quite literally mouth-watering lemon and grapefruit nose.
It's a bracing beer, yet served lightly chilled Jaipur is thoroughly refreshing. Then, as it warms towards room temperature, a biscuity, malty depth emerges and the finish gets longer and longer. This is an unmistakeable sign of a top notch IPA.
Jaipur is one of those beers that fits any occasion, but it'd be especially suitable as a chilled summer beer, as well as being the perfect accompaniment to a good curry. I simply can't think of a better beer to go with a chicken biryani, for example, and that's exactly how I enjoyed this one.
A true modern classic.
Facts and Figures