Still more Belgian monk beer for us to try, and yet this is only the first of three Trappistes Rochefort offerings that we have to work our way through.
The Rochefort beers are numbered 6, 8 and 10, with this one being the weakest of the triptych at a mere 7.5% ABV. One starts to wonder whether the cloistered Trappist lifestyle is quite as sober as they make it out to be.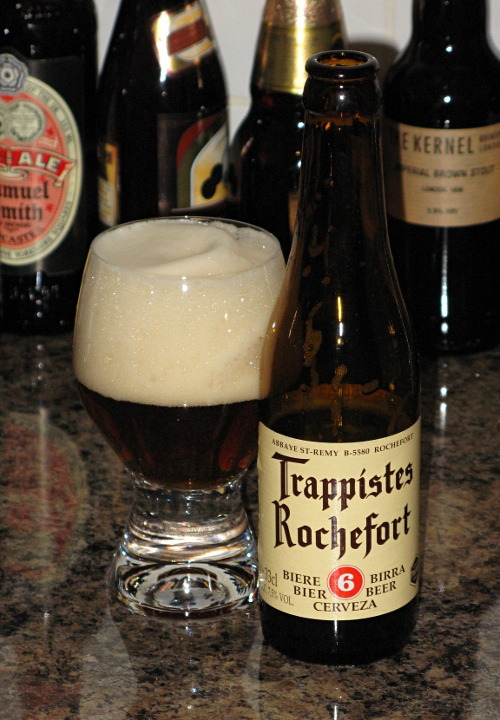 Rochefort 6 pours a rather nice looking, fairish golden ruby colour. There's an overwhelming amount of froth, which dissipates so slowly that it's difficult to pour, let alone drink, the beer.
There's very little on the nose, just a faint beery smell with a tiny hint of the esters for which Belgian beer is known.
To taste, though, it's fruit, fruit, fruit. In that regard Rochefort 6 is not unlike our previous Trappist beer, the Westmalle Dubbel, though it's somewhat lighter, with a sweetness that's a little reminiscent of a barleywine.
For all of its 7.5% ABV payload, Rochefort 6 is surprisingly refreshing, though the strength is not hidden. With its vinous finish, I can picture it working well after dinner, perhaps with strong cheeses. I haven't actually tried that so don't quote me on it. (I drank mine stood in the kitchen with a large cat on my shoulder, perhaps not the ideal use case).
All in all, I'm starting to see why "Trappist Beer" warrants its own section in The Book, as a style quite separate from the Belgian blonde beers such as Bosteels Karmeliet Tripel and Achouffe La Chouffe. While the latter exude noxious herbal esters and overbearing, imminent-hangover alcohol, the Trappist beers are all fruit, with a malty depth and comforting, warming booziness. I know which I prefer.
As I mentioned, there are two more Trappistes Rochefort beers to track down, which I'll try to do in short order.
Facts and Figures