The quite frankly prodigious contribution of Belgian monks to the world of beer continues with this Trappist ale from the tiny village of Villers-devant-Orval.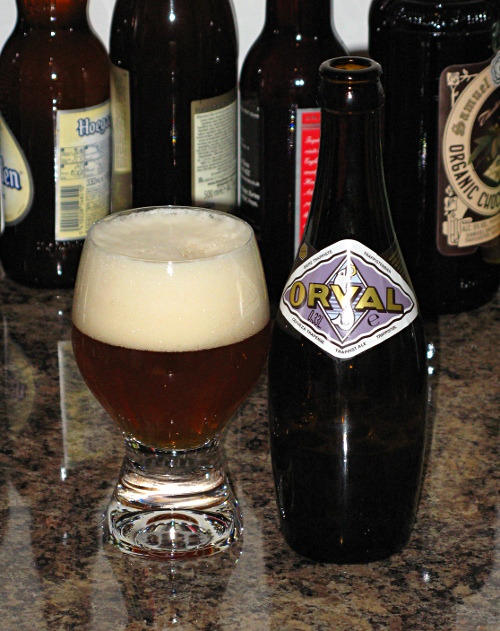 Orval pours a little darker than I expected, a fairly deep honey colour, though nowhere approaching the darkness of, say, Chimay Rouge. It's slightly hazy, though perhaps I could have let it settle a while longer before opening. There's more head than beer at first, but it fades quite promptly.
Labelled at a comparatively shandy-drinking 6.2% ABV, I think this might be the weakest Belgian beer so far, though it is bottle-conditioned, and there are apparently enough hops and sugar in the bottle that subsequent fermentation can see it reach about 7.0%.
It's actually, and perhaps thankfully, somewhat different to a lot of the blonde Belgians we've seen. It's smoother, and there's none of that strange "Belgian" flavour that I can't really describe, but would recognise a mile off (think Leffe Blonde).
It's very drinkable, but there's enough depth to savour, and there's a gigantic hoppy finish. The bitterness is initially quite satisfying, but it's so intense that it soon becomes distinctly salty, specifically sea salt. That's something I've only previously noticed with Beavertown's Black Betty black IPA. I'm not sure if it's to do with the use of dry hopping (adding a handful of hops to the finished beer) but it really is quite prominent.
Whilst not a patch on the Chimay Bleue, Orval is up there among my favourite Belgian beers so far, but that saltiness means I'll stick at one for now.
Facts and Figures