Back north of the border we go, for this strong Scottish ale. And this is no ordinary ale as, once brewed, Innis & Gunn Original is matured for over 70 days, 30 of which are in oak barrels of the type more typically used to age wines and spirits, such as cognac.
This is actually one beer that I'm already familiar with. At the risk of spoiling the surprise, I happen to think this is a bit of a cracker.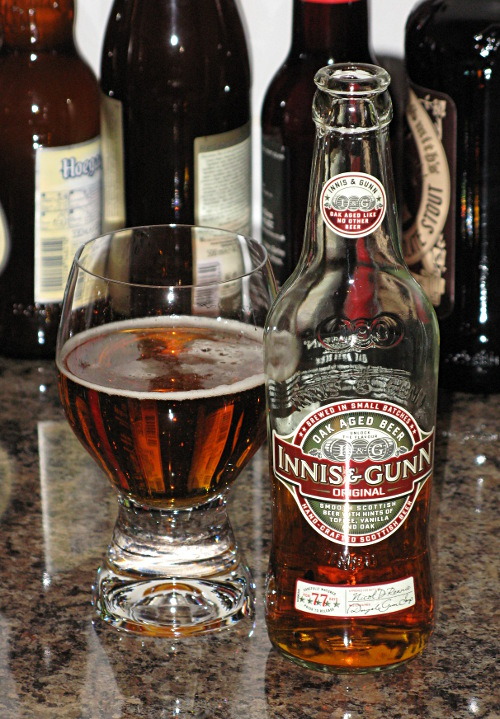 Innis & Gunn Original is a lovely, deep honey colour, and it's no surprise that they've chosen a colourless bottle to show it off. In fact, a lot of pride has gone into the presentation in general, for example that ornate, shiny label.
The beer pours with little to no head, just a light lacing. There's a distinctive aroma suggesting that this is something a little different, with the oakiness immediately becoming apparent, and reminiscent of an oaked Chardonnay.
The oak carries across into the flavour, where it's smoky and fat, and is joined by butterscotch, toffee, bitter orange, strong vanilla and even cognac-like notes. There's just enough sweetness to balance out the 6.6% strength.
This is a very complex beer indeed, and it really works, since all the flavours combine perfectly into something a bit special.
Strangely enough, though, I don't think I could manage more than one. It's such a rich beer, and the sweetness could become a little cloying, but enjoyed in moderation it's unusually good.
Very much a favourite, and incidentally, there is also a "Rum Finish" version of this beer, which is aged in casks which—as the name suggests—have previously held dark rum. The rum notes are very noticeable, and it works remarkably well.
Facts and Figures