It's Friday evening, the weekend has begun, and I think it might be time to reach into the fridge and randomly select a beer from the growing 300 Beers queue.
Sure enough, out comes this famous American lager, and having had a run of excellent American beers recently, including two from the Brooklyn Brewery and three from San Francisco's Anchor, trying our first offering from the Boston Brewing Company seems like an appropriate start to the weekend.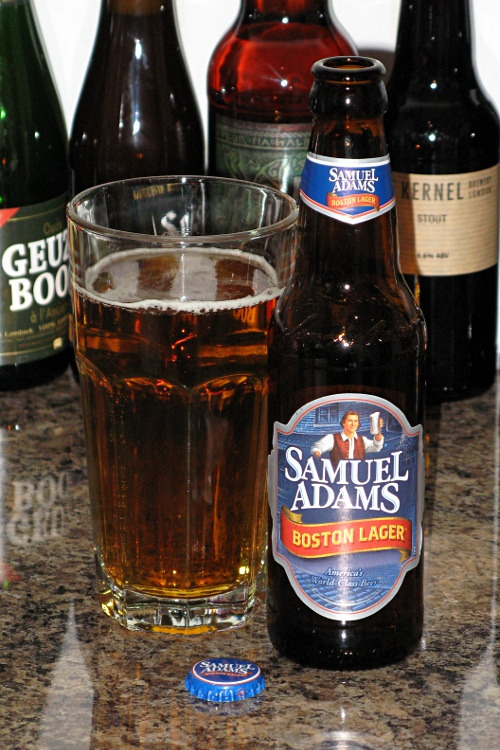 Having already met the very tasty Brooklyn Lager, I'm not at all surprised when Sam Adams pours a lovely, rich amber colour. It looks like we may have another Vienna-style lager on our hands, though The Book points out that this is more in the Bavarian March style. The subtleties are left as an exercise for the reader.
There's a small white head which doesn't stick around for long, and a promisingly malty aroma, balanced out with some gentle hops.
Sam Adams is a really full-bodied, grown-up beer with a heavy, malty backbone and an explosion of caramel and hops in the mouth, followed by a remarkably long, pleasing bitter finish.
There's so much flavour here, and this is the absolute antithesis of the usual emaciated, gassy pale lagers that we're all too familiar with in this country. This is a really top notch beer, and at a sane 4.8%, it's sessionable enough too.
Just when I'm about to praise the Americans for brewing another winner, I notice an anomaly, in that this is a 330ml bottle rather than the traditional US 12 fluid ouncer. And there it is on the back label: brewed by Shepherd Neame, Faversham, Kent. This one hasn't come far at all!
Perhaps one day I'll be able to check out an original US-brewed Sam Adams for comparison, but for now, this will have to do.
Facts and Figures